WELCOMING FOUR NEW CHURCH MEMBERS
WELCOMING FOUR NEW CHURCH MEMBERS
On Sabbath 24th October four news members were added to church membership. Three of our young people - all of them from Adventist homes - Hannah Cudjoe, Isabella Constantinou and Philip Ilagan were baptised, two of them demonstrating the positive influence of the Pathfinder ministry. Also joining the church was Liz Burns who comes from a Church of England background and finally decided she wished to belong to the church after a 40-year association with it through its local charitable work and her heavy involvement with One Vision during the current pandemic.
A warm welcome is offered to all four new church members on behalf of the church family.
Here they give their reasons for wanting to join the church.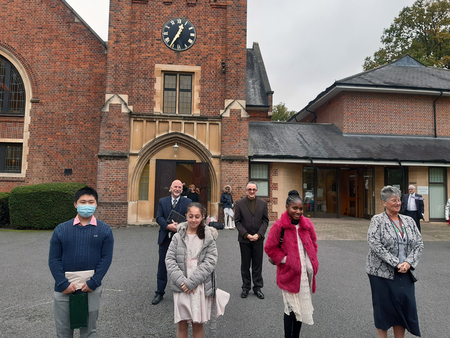 Hannah Cudjoe


At the TED Pathfinder Camporee 2019, I made the decision to follow Jesus for the rest of my life. I want to make a public declaration that I accept Jesus as my Lord and Saviour, I believe in His truth and that He can save and cleanse me from my sins.



Isabella Constantinou

I want to be baptised because I want to be devoted to God and to have a relationship with him.




Philip Ilagan

I want to be baptised so that I can be closer to God while following in His footsteps and so that all my sins that I have committed will be forgiven.
A few months ago, I started to take baptismal classes so that I would be able to learn and be more knowledgeable about God. As well as baptismal classes, I also rejoined pathfinders because I wanted to serve Him as well as learn about Him. After a few months of classes and a whole year pathfinders, I finally was able to step up and be baptised.
Liz Burns

I feel I have become a part of this special family here during my time of this One Vision operation and would like to become a member of Stanborough Park Church. I am very happy with the beliefs of the Adventist church and they resonate very well with me and all it means to be a Christian.