What Has One Vision Been Doing in October?
One Vision team members have been busy during October. The month began with the drive-through and drop harvest thanksgiving event and then Mental Health Awareness Day was commemorated with a video, there was a visit by a local football legend who spent a couple of days volunteering and local worthy Dame Helen Hyde, former Head of Watford Grammar School for Girls has joined the volunteers, 'keen to get her hands dirty', she says in a video.
            Enter the church building any weekday and you will find it contains a hive of activity on the ground floor of the Stanborough Centre to be a hive of activity. Meals being prepared in the kitchen, food parcels packed and stacked in the Cedar and Sycamore Rooms, people coming and going donating food or distributing meals and food parcels.
            According to Enoch Kanageraj, 'One Vision has delivered over 100000 hot meals and 15000 grocery bags. Now getting geared up for Christmas- no one should sleep on an empty stomach and loneliness should not have a place to hide.'
CAN YOU SPARE SOME TIME TO HELP?
According to an article appearing on the Watford Observer web site 'One Vision is currently providing more than 4,000 hot meals and around 900 grocery bags per week and delivers to all Watford postcodes plus WD3, WD6, HP2, HP27 and AL10. It currently has almost 100 volunteers but urgently needs new volunteer drivers to help distribute food to those in need. Anyone interested will need to commit to one four-hour shift per week, Monday to Friday, from 12.30pm to 4.30pm.'
You can contact One Vision via their website at www.onevisionproject.org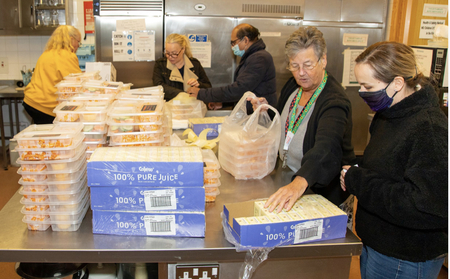 Former England Footballer Becomes Patron and Ambassador for One Vision
            Football legend and local celebrity Luther Blissett paid a visit to One Vision on 29th October accompanied by his wife Lauren. He was sufficiently impressed with what he saw that he not only agreed to become both a patron and ambassador for the project but also went out delivering food etc with a member of the team on two consecutive days, tweeting,
            An absolute pleasure to be working with the One Vision team! Delivered a car full of food thank to help from Ros and her amazing community angels.
            Luther Blissett began his professional career at Fourth Division Watford Football Club back in 1975. It was his six goals in 33 games in the 1977-78 season under new manager, the late Graham Taylor who went on to become a manager to the England Team, that helped to secure the side's promotion to the Third Division and the 21goals the following season the helped further promotion to the Second Division and a further 19 which secure a place in the First Division in 1982. Chosen as a member of the England team between 1982-84 he scored three goals. So it isn't surprising that he is affectionately remembered by fans of the club and is still a household name in the town!
            He has been involved with many clubs in his long career in 'the beautiful game' but has been a long-standing member of Watford FC's Former Members Club. This was created by former Watford defender Neil Price, who was part of the side that reached the FA Cup final in 1984, along with that other Hornets legend Graham Taylor (who was also awarded local celebrity status!) in early 2009.
            According to founder Neil Price, "The Former Players Association was set up so that we could not only bring the old players and club together but also to build a fund to help those former players who are less well off or struggling .......  to help the fans feel part of the club again and ...... events such as the legends' cricket and football matches ... and the ex-players' work in the community."
            The association is well-supported by the club's former players. It was this desire to help the local community and see for himself what aid is being brought to those in need during the current health crisis that brought Luther to One Vision to see for himself the work that the project is doing. When asked by Cllr. Rabi Martins if he could spread the message of One Vision's work to his fellow members he replied,
            "I think the message has got to go to all of Watford. We've been saying all through this COVID thing we are a family, we are a community and we here to look after each other. And this is the legacy of Graham Taylor; why myself and all the players - and the former players... So let's look after our neighbours; let's pop next door and knock on the door and make sure they're ok, make a phone call, you're there to look after each other. You've there to look after each other as best we can. So donate whether it be financial, whether it be time or food or drink, whatever, bring in, they all need it here and we can get it to wherever it's needed."
Watch thevideo:https://www.youtube.com/watch?v=CqrG7TbHPgo&feature=youtu.be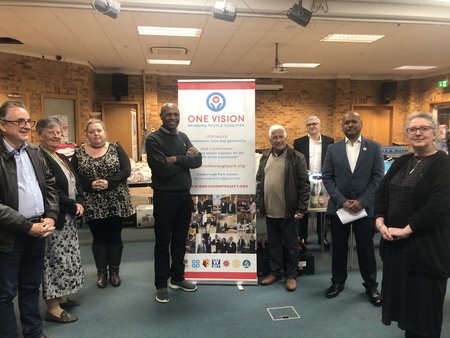 World Mental Health Day 
            With Enoch's  concerns about loneliness in mind, various community leaders came together under the One Vision umbrella to commemorate World Mental Health Day on 10th October. One Vision's Mental Health Champion Rabi Martins, a Watford councillor, has been foremost in presenting the problems with mental health that have resulted from the current pandemic including loneliness, isolation, job losses, uncertainties and worries.
            One Vision provides counselling and Watford Borough Council is already doing a great deal to help with mental health difficulties according to the town's elected Mayor, Peter Taylor, including providing training for mental health first aiders. 
            To help broadcast the message that people should not suffer in silence and remember that old advertising slogan - 'it's good to talk' - One Vision has produced a 15 minute video dealing with the topic featuring messages from General Conference and Trans European Health Directors, Sarah Beazley who was High Sheriff of Hertfordshire for 2018-19, Watford's Member of Parliament Dean Russell, former Council Leaders Asif Khan and Rabi Martins (who was also a previous Mayor of Watford), along with Tim Roberts of the Christians Across Watford movement, SPC's Pastor Geert Tap and Dr. Steve Moser as well as representatives from the local Moslem and Sikh communities and Watford Youth Council. 
            The gist of the message from all of them was don't suffer in silence, talk to someone and be prepared to lend a listening ear - 'listening goes a long way'. A representative from the Co-op is also featured explaining how the grocery chain is training managers to identify and support those employees experiencing difficulties.
Watford's new Chief Inspector of Police visits One Vision
            Local Chief Inspector Ian Grout, newly appointed by Hertfordshire Constabulary to Watford Police Station, is keen to establish positive links with the local community. With this in mind he paid a visit to the One Vision hub in the Stanborough Centre of 17th October. His aim was to learn more about the project and meet other prominent figures in the town's community including MP Dean Russell and elected Mayor Peter Taylor. 
            In comments broadcast on One Vision's YouTube channel Chief Inspector Grout said: "It's been really informative for me to come and meet One Vision and see the work that's done and also [talk to] the community leaders. I think we talked for quite a while about how we can improve Watford and work together and I've come away from this with some really positive thoughts on how we can work together and hopefully make some good links for future engagement."
This story has been featured on the Watford Observer web site.
See the article: https://www.watfordobserver.co.uk/news/18817562.watford-police-chief-visits-one-vision-community-project/
 Dame Helen Hyde visits One Vision
            Another local, but perhaps not so well-known, 'celebrity' Dame Helen Hyde DBE visited One Vision during October. She left Watford Grammar School for Girls after 29 years as its Headmistress. During that time she was a recognised national leader and coached and mentored a number of new head teachers and leadership teams. She was made a Dame Commander of the British Empire (DBE) for her services to national state education and Holocaust Education  (2013) and received an honorary doctorate from the University Hertfordshire (2018).
            According to her web site she gave up her headship as she felt she could no longer be a bystander. She had to take action to help and support others, for social justice no matter what race, colour or religion. She tries to challenge and encourage others to be active, to be an 'upstander' (her word) and to work to improve knowledge and the life chances of others.
            She has been appointed as a commissioner on the Holocaust Commission and the Religious Education Commission. As a Jew she lost many family members during the Holocaust and is a trustee of a number of Holocaust-related organisations and is heavily involved in educating people about understanding the Holocaust and hatred and particularly attempting to undermine the views of the 'Holocaust Deniers'.
            This led to her interest in other genocides, particularly in Rwanda, and she has established a local charity 'Refugees to Recovery' providing practical help to Rwandan refugees with support boxes and also 'Rwandan Sisterhood' which supports various projects in the country as well as helping women to develop self-sufficiency skills and provide birth packs for those who will be giving birth alone. She leads regular groups to the country to help with the projects the charity supports.
            With such a heavy 'portfolio' it is remarkable that Dame Helen can spare the time to 'get her hands dirty and work with you' as she put it. She explains what led her to join One Vision, which she describes as a 'great family', in the following words:
            "What I love about this place is it's multi-faith, no politics and do such an amount of good. They deliver families hot food, school meals to children who haven't been eating. Generally support a wider community."
See Dame Helen's web site: http://www.damehelenhyde.com/