HARVEST EVENTS
One Vision's Community Harvest Event
            Given the fickle nature of the British climate holding an outdoor all-day 'drive-through and drop harvest festival was always going to prove a challenge for 'One Vision'. Determined to preserve its reputation the relentless rain on the day was more suited to seedtime than harvest and certainly supplied little warmth to swell the grain! 
            One Vision consists of various groups in the community working together for the good of the people of Watford under the chairmanship of church member Enoch Kanagaraj and is supported by the local council, Member of Parliament as well as the Adventist church hierarchy. Since Lockdown began it has been organising distribution of hot meals and parcels of groceries to local families, schools and vulnerable individuals who have been adversely affected by the current health crisis. This has been supervised by a local councillor, Liz Burns.
            Liz has ended up being a harvest of her own for, after a 40-year association with the church, mainly through Pat Walton's welfare work until her Veterans' Group linked up with One Vision, she has decided to join the church and will be baptised in October.
            Harvest is an occasion celebrated by all faiths in their different ways and with all places of worship closed for the foreseeable future there was going to be a lack of harvest parcels for distribution when the need for them is even greater. So the idea of turning the traditional harvest festival into a multi-faith, community event was born with the concept of dropping-off traditional harvest gifts in a fixed location. This idea was enthusiastically supported by the local council, featuring it on its web site and the Mayor even took part in a promotional video which was shared on social media encouraging people to donate - as did other local community representatives. The event was well publicised on social media.
            Although the wide drive and turning circle in front of the church are ideally suited to a drive-through and drop event the BUC car park and the Peace Garden were chosen as neutral territory so as not to cause any upset to representatives of other faiths and the minority of church members who are uncomfortable with other faiths using 'their' premises. Also, as Enoch Kanagaraj points out it introduces the community to what lies behind the high fences and big gates of Stanborough Park.
            "We thought it would be beneficial to present our bigger picture and introduce food donors, community, local dignitaries etc to Stanborough Park, BUC offices, Stanborough School, as many/most do not know what exists behind the gates. When we launched the One Vision Youth Council in Stanborough Park some weeks ago the local dignitaries and visitors were taken by the grounds of Stanborough Park saying how beautiful it was, and that they didn't even know it existed. 
            "We are trying to introduce the community (in all its shapes, sizes, colours and forms) to a loving, caring God by sharing with them morsels of different pieces of our colourful jigsaw that happens to also be on our doorstep, which, when combined, paints a fuller, more complete, picture of us all. But, most importantly, as people start to trust our genuine intentions, that 'we' can be a gateway to Him and His true character of love for all.
            So on Sunday morning, 4th October a large group of community leaders and representatives were gathered around the Peace Garden sheltering under umbrellas from the driving rain. They included people from the Hindu, Moslem and Sikh communities, local inter-faith groups, Imans as well as Rev. Tim Roberts from the Wellspring Church representing the  'Churches Together' movement along with TED, SEC and the BUC representative as well as our own ministers and some elders, local councillors, the town's Member of Parliament, Dean Russell and the current High Sheriff of Hertfordshire. Only the local Rabbi was unable to attend.
            The event began with various speakers talking of the importance of harvest to all communities, not only theirs. Pastor Terry spoke briefly continuing his topic of gratitude dealt with in his sermon the previous day. The High Sheriff of Hertfordshire, the Hon. Henry Holland-Hibbert from the nearby Munden Estate, whose family once owned the site now occupied by Stanborough Park, spoke of the good work done by One Vision for the community especially during the current COVID-19 crisis.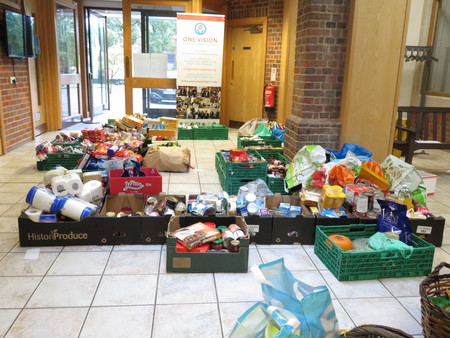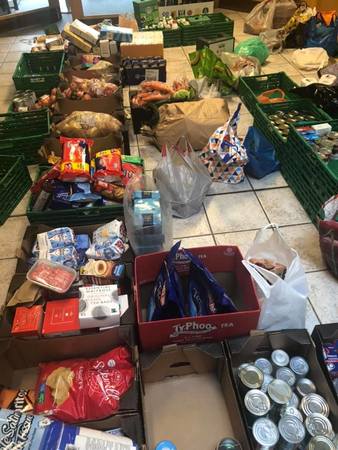 Thankfully, the bad weather did not deter donations with people only too happy to drop off food, leaving volunteers to carry them over to the warm, dry church foyer where they were packed into bags ready for distribution during the week. Their generosity knew no bounds. Once bagged up the produce waited to be distributed during the week to needy recipients by One Vision volunteers. 
            Later Liz Burns commented how nice it was to receive fresh vegetables which made a welcome change from the usual dry goods which were donated and would enable their recipients to cook a traditional meal for themselves. For Enoch the event was sufficiently well received that he would like to make it an annual community event.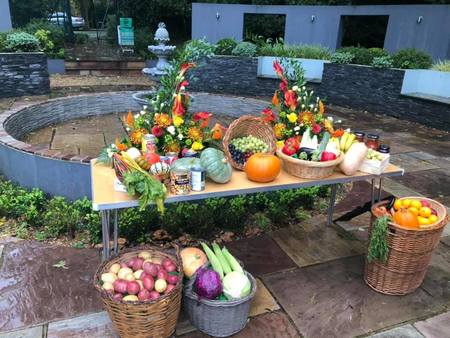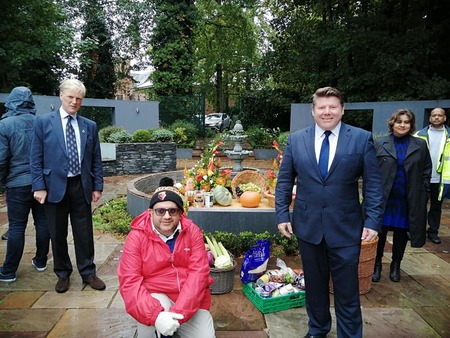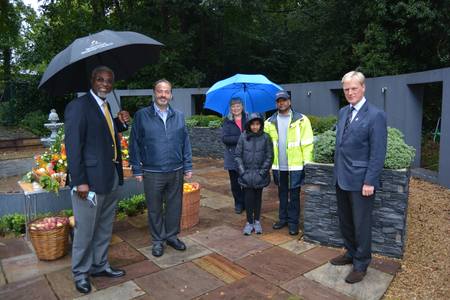 Stanborough Park Church
This year's church Harvest Festival became the latest COVID casualty. Although services have been partially resumed in the church with a small invited, socially distanced congregation, most continue to watch the services via the internet. This resulted in the need for a different format and Audrey Balderstone arranged a small token harvest display with her usual flair and Cecelia Davison baked a harvest loaf for the centrepiece. (Alas, it hadn't arrived in time for the photoshoot!) Members were asked not to bring their customary harvest gifts this year; instead, it was suggested that they give them to a neighbour who was unable to shop or to the 'One Vision' drive-through and drop-off community harvest event taking place the following day.