ALL YOU NEED TO KNOW ABOUT THE CHURCH'S YOUTUBE CHANNEL
ALL YOU NEED TO KNOW ABOUT THE CHURCH'S YOUTUBE CHANNEL
            According to Jef Nascimento he started the YouTube channel in March 2016. 'Back then, the church would have a podcast sharing the sermons in audio, but a bit after my arrival, the church reached their limit on a free account and was the audience wasn't enough to keep on paying, they decide to stop.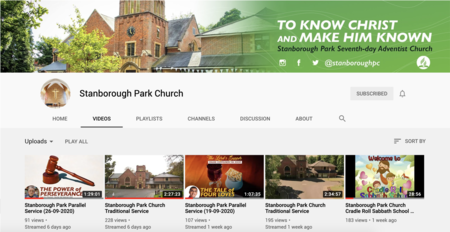 'As I'd started not long before to do social media for the church (Facebook, Twitter and Instagram), I thought that I could move the sermons to YouTube and people could listen from there but also to watch. I would upload the cover of the last sermon on social media and eBulletin and times to times mentioning to subscribe.
            'My main idea was to help to facilitate people to share church sermons. The church YouTube account doesn't need or want to be more important than the Livestream. But rather is one more tool to take our message beyond and not only for church members.
            'The best thing about YouTube is you can access church 24/7 and it's available for the entire world. YouTube is the second most visited website in the World, just after Google. It's also the second online website in searches. This means that being there, we can possibly reach many more people and share with them the beautiful message of Christ. People can be searching online on Google or YouTube itself and find a message from Stanborough and press 'play'. 
            'Many people already watch the Livestream on Saturday morning, but if you want to share with a friend, it's not easy as simple as a YouTube video. Also, you need to share the entire thing - over an hour. Then, I started downloading the full service with permission of the AV Team, I'd crop just the sermon from the "good morning church" until the "amen", and I upload it again on YouTube. People could now share a shorter video, just with the message, and not with announcements, etc. 
            'As soon as I started, people asked if they could have the special items uploaded too. As they could share and listen during the week. Then I started proving sermons, special items and children stories, each week as an individual video. People could easily share or watch just what they wanted or need.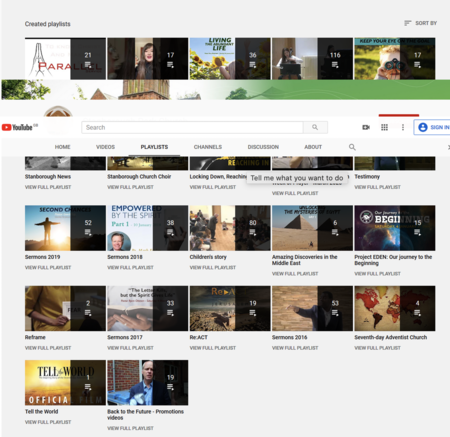 'I don't know every single person that is subscribed, but I am sure majority aren't necessarily SPC members. We have right now 979 subscribers. The benefits of subscribing are that you receive notifications once a new video is uploaded on the channel. You can also know when a live service starts. Even without subscribing, everyone can watch as many times as want, at any time, can speed up or make slower. The videos from your subscribed channels show on your home page once you go to YouTube. Just makes life easier. It doesn't cost anything to subscribe or watch any video. 
            'There are 22 playlists, which helps people to find easier what they are looking for. Example: SPC Choir videos, Cradle roll, Youth week of Prayer, Amazing discoveries in the Middle East, Worship in Music, Children's story, Re:ACT series, Back to the Future series, sermons from 2016-2020.
Playlists: https://www.youtube.com/view_all_playlists?nv=1 
            'I normally upload weekly with the last sermon. Special items not weekly. I've stopped to upload children's story since GDPR started. I had the help from a youth member back in 2017, that cropped all sermons from 2016. Lucas helped me this year with some videos because from home in Portugal I don't have internet access good enough to download and upload it all over again. I do from uni, but when COVID made my classes online, I couldn't do it anymore. With the lockdown, church moved fully online, Ben started to help uploading the Cradle Roll videos on YouTube and Facebook. Lucas has access now to do share the live service from Parallel and the AV Team share their live Traditional Service.'
church channel: https://www.youtube.com/channel/UC4IitsaIxhKl0cqYOG8AxgA 

Below you can see some commentaries on the videos and the number of views.