Lockdown News #6
IN THIS ISSUE:
Harvest Festival arrangements

Drive-through and Drop Harvest Event

News of Pastor Patrick Boyle

Roma Paley Ohman's bereavement

Pastor Philip Anderson moves west

One Vision commemorates V.J. Day

Pam Robertson recognised as a 'Hero of Hertfordshire'

One Vision's drive-through and drop-off harvest event

Audrey's back raises funds for ADRA

Sara's Family Bikeathon Day raises funds for ADRA

Sangbin Jung is awarded a First Class Honours Degree

Messenger by electronic mail

Annual Christmas Toy Service

Stanborough Park Church's YouTube Channel

Is it time to close our churches? A Review article resurfaces.
HARVEST FESTIVAL ARRANGEMENTS
Our traditional Harvest Festival event hasn't been forgotten but will take a different format this year on 3rd October. Pastor Jim Huzzey has prepared the following statement:
Harvest Thanksgiving
Next Sabbath Stanborough Park church will again be celebrating Harvest Festival but in a new and special way. We will give thanks to God for his continued blessing in providing for all our needs, but especially for his protection and provision during the COVID crisis. Although unable to come to church we have enjoyed Sabbath worship and fellowship in new ways. 

God has been good to each one of us, and next Sabbath we will share and celebrate together as we remember how he has kept his promises even in these hard times.

Instead of asking you to bring harvest produce to church as is the normal practice, we will invite you to express your thanks to God in a very personal and practical way. We will ask you to help a needy friend or neighbour.  Or if you prefer, to donate to one of our church community services: the welfare department, the weekly Soup Run, ADRA, or One Vision.



DRIVE-THROUGH AND DROP HARVEST EVENT
With traditional Harvest Festivals falling foul of COVID regulations One Vision has joined the local council, the Adventist church, local organisations and community leaders in organising a 'drive-through and drop' event to ensure that local people in need do not go without their traditional harvest parcels.
One location will be in the BUC car park between 10am and 5pm on Sunday, 4th October.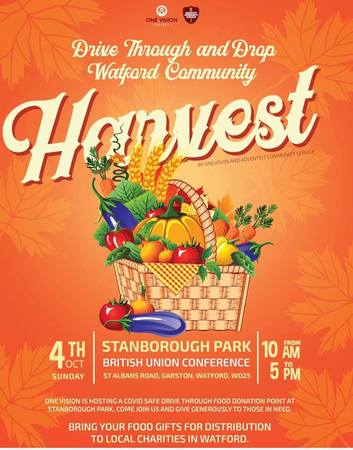 Enoch Kanagaraj has sent out the following letter about the event. 
Dean Russell MP, Watford Mayor Peter Taylor, TED President Pastor Raafat Kamal, BUC President Pastor Ian Sweeney BUC, SEC President Pastor Emmanuel Osei, High Sheriff of Hertfordshire Henry Holland-Hibbert, Councillor Asif Khan, Pastor Tim Roberts of the Wellspring Church along with SPC Pastors Terry Messenger and Geert Tap, the Watford Interfaith Association, the One Vision Team and community leaders are coming together to support Watford Community.

            Since March Lockdown One Vision Project has been helping the community and local school children who are in need by providing hot meals and food parcels during this difficult time.

            To further support One Vision Project and other charities in Watford, we are organising a drop-in donation day at Stanborough Park as a drive-through drop off. All donations will be distributed among Watford to support the vulnerable and needy people in our community.
            Please share the poster to your congregation, friends and families. Let's all come together to help the needy.



PASTOR PATRICK BOYLE Update
Our prayers for 'Pastor Paddy' have been requested for some time but we now know that he has suffered a fracture to his spine and so his condition is regarded as 'terminal' although no time frame has been given. His future is 'in God's hands' and he is keen to report that he is 'not in pain and quite content'. If all goes well and a suitable care package can be put in place, he should be back home soon.
Audrey Balderstone has visited him in the Peace Hospice reporting that she found him 'as cheerful and positive as ever' and 'happy, calm and trusting in his God as always'. As Audrey pointed out he is always praising his God and she found visiting him 'an inspiration'. He told her that when he can't sleep, he mentally goes around all the pews in church visualising their occupants and recalling the names of every church member. He even managed the names of all the Parallel worshippers too!
Good news for Jacqueline Deane who has finally been allowed home from hospital and would appreciate your continued prayers.
SYMPATHY
Former Stanborough Park member Roma Paley Ohman, the mother of Helen King-Brown, recently experienced the sudden and unexpected death of her husband, Sven, whilst on holiday along with his sister Karin and her husband Pastor Llew Edwards. She is also recovering from a broken ankle which required surgery. Our thoughts and prayers are with Roma and the extended family.

Long-time member Adina (Marriner) Farrant, who donated her body for medical science after her death on 21st May 2019, was cremated on Wednesday 23rd September 2020.

PASTOR PHILIP ANDERSON MOVES WEST
Pastor Anderson has decided it is time to leave Stanborough Park and move to the Bristol area to be closer to his family. He has been a member since 1994. During a presentation on Sabbath 12th September church elder Roger Murphy listed his contributions to church life since his arrival as Bursar at Stanborough School in 1988: elder, Sabbath School teacher, Chair of the Management Committee, Health and Safety Officer and more recently Head Deacon. He helped to establish the Men's Singing Group and construct the church's Mission Statement and even repaired the church clock. "You'll be missed very much," he said. 
ONE VISION COMMEMORATES V.J. DAY IN CHURCH GROUNDS
A small group gathered outside the church on Saturday, 15th August to commemorate VJ Remembrance Day with a flag-raising ceremony. The event was organised by Abbots Langley Councillor Liz Burns, a military widow who runs a local Veterans' group and as such is a very active supporter of One Vision and is currently running the group's COVID-response distribution network from the church.
The church's flagpole was put to good use as a commemorative flag was raised by Audrey Andersson, Executive Secretary of the Trans-European Division.
Speakers included the Hon Henry Holland-Hibbert in his role as High Sheriff of Hertfordshire, Cllr Aga Dychton the Chairman of Watford Borough Council, Harjit Singh the Chairman of the local Interfaith Association, and Michael Dragoyevich from the church and Audrey Andersson. Cllr Burns said the prayer. Also attending the event was Kate Holland-Hibbert as Deputy Lieutenant for Hertfordshire and Dean Russell, the town's Member of Parliament.
The event can be viewed in its entirety on YouTube https://youtu.be/XrPeEnZTEpA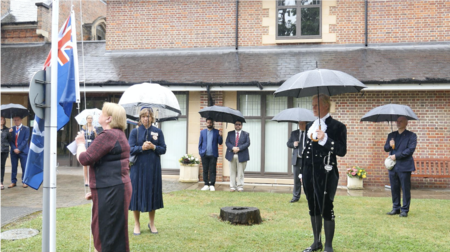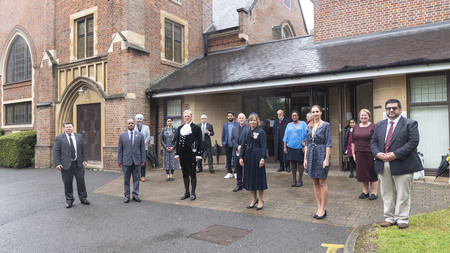 PAM ROBERTSON'S RECOGNISED AS A 'HERO OF HERTFORDSHIRE'
The 'Hero of Hertfordshire' award was created by the Lord Lieutenant and High Sheriff of Hertfordshire in response to the work by the unsung heroes who provided services to the people of Hertfordshire during the current pandemic. Church members Dr. Steve Moser and Enoch Kanagaraj have already been presented with their  awards.

This timeis was the turn of Pam Robertson who has cooked meals on Mondays, Tuesdays and Wednesdays for those on the One Vision distribution list who prefer a traditional 'two veg meal' rather than a rice-based one. For Pam the award, presented by High Sheriff of Hertfordshire Henry Holland-Hibbert came as a complete surprise. Protesting that she was merely part of a team effort he pointed out to her that she played an important part in it.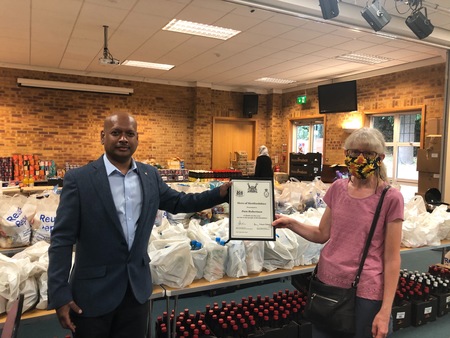 AUDREY'S BACK RAISES FUNDS FOR ADRA
Audrey Balderstone couldn't let ADRA's funds suffer as a result of being unable to host their annual house-to-house collection so attempted a sponsored event - holding the 'plank' position for five minutes every day for three weeks raising a total of £8,250.00 for ADRA in the process.
SARA'S BIKEATHON FAMILY DAY FOR ADRA
Congratulations and well done to Pathfinder Sara Renard for her initiative in organising a Bikeathon on Sunday, 20th September which has so far raised is £745 for ADRA. The ride, starting from Stanborough Park, covered a route of approximately 5.62 miles, most of it off-road. The event was so enjoyable that some even rode the course twice!
Sara writes: "I would like to send my appreciation to everyone that collaborated, participated and donated toward my Bikeathon ADRA Family event. I hope everyone that came had a wonderful day. I am praying that all the donations, including sponsored money will help those families that are less fortunate." 
ADRA VIRTUAL GIFT BOX APPEAL 2020


Audrey has received this poster about ADRA's gift boxy appeal  and has asked for it to be included in this newsletter.
A copy of the letter she received can be seen here. Generation Covid Virtual Gift Box Appeal.

This year ADRA will be supporting children in the UK who have become disadvantaged because of the impact of COVID-19.Each virtual box is valued at £10  www.adragiftbox.org.uk

CHRISTMAS ANNUAL TOY SERVICE
Audrey also assures members that the Annual Toy Service will go ahead as usual although the exact format is not known as yet. So please plan to donate a toy as usual.
SANGBIN JUNG AWARDED FIRST CLASS HONOURS DEGREE
Congratulations to gifted violinist Sangbin Jung, who has provided the inspirational music for many Divine Services over the years, on completion of his B. Mus degree at the Royal Academy of Music. He has been awarded a well-deserved First Class Honours Degree and has now embarked on his Master's programme at the Royal College of Music.
NEW SERVICE: RECEIVING THE MESSENGER BY ELECTRONIC MAIL
The current Pandemic situation has resulted in rethinking traditional ways of doing things including sending The Messenger by electronic mail directly to members. The following letter came from the Editor during September; contact him to be included on the list.
I was hoping that with the arrival of the autumn season, The Stanborough Press would be in a position to begin a limited print run of the magazine. As you will understand, with the continuing and deepening COVID-19 restrictions on 'gathering together', this is not possible.        

As a result, Stanborough Press editorial is in the process of updating  our 'mailchimp' database for the purpose of distributing Messenger electronically. Operating in accordance with UK data protection practice (GDPR), with each mailshot, an opportunity is provided to unsubscribe at any time. 

To gain access to this service, would you kindly simple send me a 'yes please' by return e-mail, and I will add you to the Stanborough Press mailing list. As an alternative, the magazine may be accessed through the British Union Conference website at this link: https://adventist.uk/news/messenger/ 
David Neal, Editor
Email: dneal@stanboroughpress.org.uk
Those who are unable to obtain the Messenger by this means can contact a church elder who will provide them with a printed copy. 
HAVE YOU DISCOVERED THE BENEFITS OF SUBSCRIBING TO THE CHURCH'S YOUTUBE CHANNEL YET?
For those who have missed seeing the church interior its appearance for part of the new format 'hybrid' services will be a welcome sight.                        
Thanks to the AV Team and the student missionaries, especially Lucas, for their efforts to cater for our spiritual needs during the current crisis and to Carl Swain in particular for the spectacular nature shots. Those viewing the Parallel Service don't know what they are missing!
Whilst it is possible to view whole services through Livestream on the church web you need to scroll through on a hit and miss basis if you wish to find a particular bit. The beauty of the YouTube channel is that these bits are separated out so you can choose music, sermons, children's stories, Cradle Roll videos etc and find what you want very easily. It is also possible to save items. The channel is like keeping your papers in ring file. It is easier to access it by setting up a  Google Account but you  are given the option not to do so by the company. Currently we have 979 people who subscribe to the channel with 100 joining since July.
According to Jef Nascimento who established the channel in 2016: !There are 22 playlists, which helps people to find easier what they are looking for e.g.  SPC Choir videos, Cradle Roll, Youth week of Prayer, Amazing discoveries in the Middle East, Worship in Music, Children's story, Re:ACT series, Back to the future series, Sermons from 2016, 2017, 2018, 2019 and 2020.' 
See all the Playlists here: https://www.youtube.com/view_all_playlists?nv=1
TED Youtube Channel: https://www.youtube.com/channel/UCX9xPtvOtQVyYdGseNybQug TED channel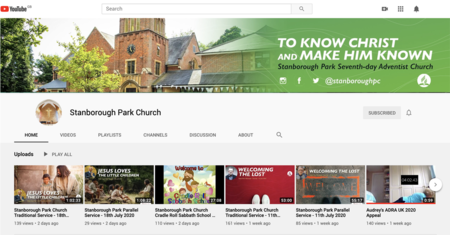 'Is it time to close our churches? Maybe' - a Review article resurfaces
This article originally appeared in the Review four years ago and has been circulated quite widely recently with churches closed for worship. Perhaps there is a suggestion of replacing them with the aid of modern technology?
However, the American author, a pastor, clarifies his statement with the following words: A crisis is sweeping my state, killing young and old. How can we claim to minister in Christ's name and ignore this? He argues that we should be actively living out the gospel in our local communities rather than just sitting listening to it in churches.
https://www.adventistreview.org/closechurches
This is a view promoted by ADRA and BUC Community Services which shares the 'I AM URBAN' initiative 'to support congregations in the UK to make a real and sustainable impact in their local communities'. At Stanborough Park we are involved in the local community through the Welfare Department, Soup Run and One Vision. 
One Vision is being presented in a slot at a General Conference session this autumn as an example of 'the hands and feet of Jesus'. According to the group's Chairman, Enoch Kanagaraj,
"We are currently delivering 3800 meals and 800 grocery bags a week. We need volunteers who have interest in cooking from October 4th onwards; Harry Lomus (a chef at Wembley Stadium) trains people to cook a simple meal. And also we need drivers to deliver" the food and grocery bags.
Can you help? Contact Enoch: enoch kanagaraj enochkanagaraj@yahoo.co.uk