Combining team work and technology to produce the virtual services
"Each service is a team effort and the way in which everyone has worked together has been wonderful." (Audrey Balderstone, Worship Committee coordinator)
To say that we live in strange times is a 'given' but throughout 'Lockdown' the Sabbath services produced and broadcast by the AV Department have kept the members in touch and given some semblance of normality besides catering for their spiritual needs.
The AV Department: yesterday and today
            Many years ago AV Department, under the leadership of David Swain, began recording the weekly sermons on audio tapes, subsequently recording the whole service on VHS and later DVD. Now it uses Facebook, the church website, its own church YouTube channel and produces both Traditional and Parallel services each week - something which could never have been envisaged in those early days with a single service.
            The current team consists of: Ben Davison, Peter Cooper, Paul Perry, Neilson Roberts, Carl Swain and Eric Wolfram. Ben reminds us that, "The team is geared to providing live services and therefore doesn't have editing facilities so producing a virtual services has produced a particular challenge." Since 'Lockdown' began the student missionaries, Carol and Lucas  have been actively involved as they have video production experience and Lucas, like Carl Swain, has his own equipment, which he brought with him. 
Lockdown: continuity required
            The church closure in March was sudden and in advance of the national Lockdown. Determined to continue to provide an online service a meeting was hastily convened with the team joining the pastors and the student missionaries to decide what was possible to achieve and what short-term course of action to take. 
            Messenger editor, Pastor David Neal, was scheduled to speak during Divine Service that Sabbath. He indicated that he was willing to come and record his sermon so the Team immediately swung into action.
            Ben recalls that occasion vividly, "Eric came down and met me at the BUC on the Friday night.  We managed to get some equipment, camera and sound kit out of the church and we recorded the items from the BUC. We got the recordings to Carl Swain who then managed to edit the programme together overnight. Eric took a copy of the service and between them, streamed directly from their own homes  to our Traditional and Parallel Livestream channels at the normal 11am on Sabbath morning. This first service of 'Lockdown' is still one of our most popular services of the 'Lockdown' period." 
AV: planning and realisation
            To start with Carol and Lucas did much of the filming as they lived on site and only the pastors, as key workers, were allowed to travel but once Pastor Geert went on furlough Lucas ended up editing the Parallel service and Carl Swain the Traditional one.
            "We in AV allow our editors as much license as possible to be creative. It gives both services their own individual feel keeping, where possible, the character of the differing services. So in Parallel for example Lucas has reconstructed the service production to give it a completely different feel as well as doing the intro and credits etc. This is the skills of the editor/producer so we leave Carl and Lucas to do their thing and use their God-given talents as best they can," Ben explains.
            "We didn't have hymns in our first couple of programmes as we did not want to broadcast the congregation for any of the hymns as there was a very real chance of seeing members singing in the historical footage who may not be with us any more, so we decided to use shots from around 'The Park' during the singing. Then we asked the worship committee to produce a historical list of hymns from previous services to choose from - with the dates and time etc - so as to streamline finding the hymns from our back catalogue and speed up the editing process. Parallel's back catalogue is not the same as the Traditional service so they went ahead and produced new music for each service." 
            "All of our AV work is done from our homes. We ask that all content is uploaded by Wednesday evening to give Lucas and Carl enough time to produce the services. Come Wednesday evening we usually do a check around AV to make sure all elements expected have been uploaded. If not Audrey and I have a chat to see  what can be done.
            "It takes the equivalent of about a day's work to get the services done, depending on the content quality and how much tweaking is needed. Also the more music/hymns the longer it takes generally speaking. The splicing of the SPC park shots over the top of the music takes quite a lot of time. But this is all done in the evenings and in between work as we all work full time still during the lockdown."
            Carl admits that he is a perfectionist and the editing is very time consuming  and has submitted a screenshot of his editing screen to illustrate this. Explaining the complex process, he says, "I have to edit each video to match sound and colour as much as possible to keep it consistent, for example, often people have recorded in low light (or too bright) and so I have to adjust. The volumes especially are tricky, having to try to get them all to the same level without distorting, whilst also in some cases removing background noise etc. It is then (hopefully) completed by Friday evening so I can upload them to the YouTube and Facebook platforms and those carrying out the streaming for Sabbath morning can get the files ready on their own home computers."
            Ben outlines what happens next, "The completed edited services are uploaded to our cloud storage on Friday evenings. From there it is downloaded by the key AV member who is streaming that weekend. The streaming of the services is carried out from our homes, split between the AV Leadership Team. To begin with Carl took on Traditional and Eric was streaming Parallel. 
            "After a  few weeks we wanted to give further opportunity for members to watch the service so we started to use our SPC Facebook and YouTube pages. We noticed that viewing habits have changed and we have some viewers from other countries, so we have started to make our services available early on our YouTube channel to allow those in other time zones to watch at a time that is convenient for them."      https://www.youtube.com/channel/UC4IitsaIxhKl0cqYOG8AxgA/
            As Ben rightly points out, "AV is just an enabler and not usually the creator of services so where possible we leave the construction and order of the services to the Worship Coordinators."

Service Content: the role of the Worship Committee
            Production of content of the Traditional service falls to the Worship Committee chaired by Pr. Terry aided by joint co-ordinators Audrey Balderstone and Roger Murphy and their team. The Parallel Team organise their own services.
            Audrey explains how the Worship Committee operates, "We have seven coordinators with whom we work - making nine in all, (plus one music coordinator for the normal services in church). Each week the coordinators on duty are responsible for choosing the participants and getting them to record their portion of the service from their own homes.
            The AV team made up a series of tips to help participants record themselves and we send this out along with the link to which they should send the recording. We became aware that visiting speakers do not always think to make a recording of the benediction, so we have sent a memo to the coordinators reminding them to ask for one."
            "When, in conjunction with the AV team we decided to use hymns from previous recordings Roger and I made up a list of hymns with their numbers and which hymn book they were from. This list was shared with the coordinators. We also became aware that we need to give the AV team the name, number & hymn book and the time in the programme that the hymn is sung - so that they don't have to trawl through the whole on-line service." To avoid making the 'offering slot', too dominant "a rota has been made up to enable the appeal to be presented in a different way each week."        
            "Almost every week there are last minute 'panics' when Carl or Ben will contact me - usually about a recording which they have not received, or a hymn chosen which has only one verse or the number given is incorrect or the sermon is missing! Fortunately we have always been able to track them down. If a last minute announcement has to be made Pastor Terry usually does that and Carl and I will decide where in the service it should go so as not to detract from the 'flow'."
Service Content: the nature/drone shots
            The use of nature shots during the hymns became Carl Swain's responsibility. "I have actually taken well over 100 unique videos during this time, even though to most people it may appear to be a lot less, but the amount of shots I use each week is a lot especially when we have had more than two hymns.
            "In terms of 'Park' shots, I had that idea on the first call we had, suggesting I rip the sound from old hymns and use nature footage around 'The Park' and church. I keep it personal to Stanborough Park to remind all those who are unable to go there and give them a sense of weekly familiarity. I figured, It would be good to remind everyone of the nature we have at 'The Park' and that, even though most people couldn't see for themselves, life in nature carried on as normal. It gave others a chance to still see daffodils, bluebells etc which they wouldn't have been able to see for a while.
            "I went to the church early in 'Lockdown' to video shots around the church and 'Park' using my phone and digital SLR camera. However by late April the spring shots were looking a little out of place. I went down there again when most plants were in early full bloom and took a lot of footage which I hoped to use over summer. I went down one more time about a month ago to take even more shots, because I was concerned how quickly the same shots were being used each week, and will continue to film again every few months to keep up with the seasons changing as long as the church 'Lockdown' continues.
            "A few weeks ago Dejan offered those aerial shorts which I try not to overuse. However I have now come up with a standard intro using them and have started an ending. I have ended up taking more and more time over the videos to make them look and sound as good as possible because we have always tried our best to maintain a high standard in the AV team and wanted that to continue for as long as it takes.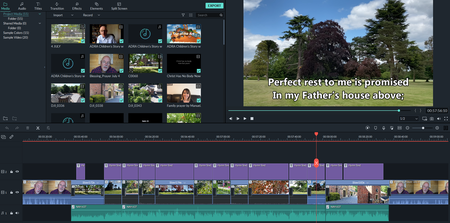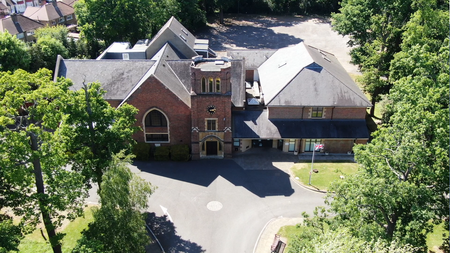 Service Content: the music
            The organ introduction was discovered by Daniel Guenin, the first member of the Worship Committee to plan a virtual service, on YouTube and gives a sense of going to church for worship as Audrey points out. ('Prelude in Classical style' Gordon Young) https://youtu.be/QGg5IqoLMXg
            The Zoom Choir item was produced by Beatrice Cooper who has another musical production in hand. "We were in full preparation for our Easter service when 'Lockdown' started, which meant that  the choir, couldn't meet anymore. I didn't want our voices to be drowned out by the Coronavirus, so I proposed to the choir to start a virtual choir project and we transitioned from the church platform to the internet platform", she says.
            " I recorded the track for our first song, 'How Deep the Father's Love', and sent it out to them, they then practiced singing to it, and then each of them recorded it in their own time, listening to the track in their ear/headphones while video recording themselves on another device, such as another phone or a laptop/iPad/tablet.
            "Once the deadline came and I received everyone's beautiful recordings - all I would get is their voice without the track - I proceeded to separate audio from video, lining all tracks together so it amalgamated and sounded like they all sang at the same time. After this the video clips were all put together in a different software, cutting all images to different sizes to make it more interesting.


             "The last step was to add the audio and ensure it was all synched to the video. It is a few weeks' work, but it is worth is as it provides us the opportunity to keep singing and praising Jesus' name together, which we so love to do. Yesterday we finished recording our second project, which was open to anyone who wanted to join. We have had great response from people. I look forward to sharing it with everyone once it is finished!"
New members welcome, contact Beatrice Cooper by email.  
Service Content: the sermon 
            Pastor Terry is in charge of the sermon rota recording the sermon/announcements/prayers etc. in his office at the church, filmed by Carol/ Lucas usually on a Tuesday or Wednesday. Sometimes a late announcement comes in and as long as it is recorded before noon on Friday it will be included in the Sabbath service. "It has been an interesting, busy time!,  "he says.
            Pastor Terry explains how sermons are organised, "The different speakers are usually selected by me and are asked if they are comfortable being filmed in this way - most are but some are not and choose not to do so. They usually film themselves in their own homes. Sometimes they choose their own hymns or some are happy for the worship co-ordinator to choose them. Topics are chosen sometimes by events that have taken place in church life.
            "I usually watch the service on the Sabbath at 11am and take part in the interactive chat - sometimes talking about the actual sermon I am preaching while it is being preached! But I feel more comfortable speaking to real, live people than staring into the camera!."
            This echoes the view expressed by others. Pastor Boyle, who likes to engage with his audience, had to preach to an empty church and found it "In a word, disconcerting. I felt I was dreaming and confused. I thought I was or should be talking to people but  there were no people." 
            Pastor Neal takes this further. "The ability to 'preach to camera during these times is most helpful. But in reality, I'm going to suggest that you are not really preaching. While the sharing and explaining of scripture still takes place, it feels more like a presentation because three crucial dynamics are missing,"  For him it lacks the feeling of the preacher and congregation worshipping together, the adrenalin involved in the heavy burden of preaching the Word of God and eye contact to signal if the message is getting across - "when the preacher sees eyes glazing over - it is a signal to quickly draw the message to a conclusion!"
            It is not only ministers who find this a challenge!  'Auntie Alison' Burgess has been persuaded twice to tell the children's story and has submitted an entertaining account of how difficult she found it. (Children's Stories in Lockdown: 'Auntie Alison's' Strange Experience) 
The eBulletin
            Jef Nascimento has continued to produce the e-Bulletin despite currently studying in Portugal. "We have 429 people registered to receive the eBulletin and weekly we have between 40%-50% of people opening it to read but there are also people reading through the website.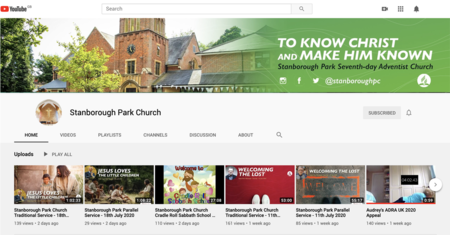 "Thanks to Caroline who sends me announcements received on the church bulletin email and all the others that send me information, I am able to produce the eBulletin every Thursday to go out early on Friday morning. I can design the cover to the sermon which goes on YouTube and also post on church Facebook, Instagram and, when needed, the website. Ben has helped me a lot to upload videos and he posts directly to church, Facebook and YouTube as my internet in Portugal isn't as good as in the UK. For the devotionals, I take them from 'Our Daily Bread'. (odb.org)
            "I have highlighted some numbers below from our YouTube Channel which is basically a church online opened 24/7, as it can be accessed at any time.
Since March 2020 we had:
-       172 more people subscribing on our YouTube Channel. (A total of 859 now).
-       2.6 thousand of hours watched (12% more)
-       21% more views, 22.3k views
-       205 thousand of impressions (23% recommended by YouTube; 29% through YouTube search.
Charlotte Fidelia's Cradle Roll videos have been fantastic - some of them have over 1,000 viewings." 


            These virtual services represent a big leap forward from the AV Department's humble beginnings. Then nobody could have foreseen just what leaps forward lay ahead for the department resulting in the current productions. We are fortunate that the advances in technology and the skills of the present AV team have made this possible. As the former Audi advert said, Vorsprung Dürch Tecknik', 'advancement through technology.