NORMAL SERVICE(S) WILL BE RESUMED AS SOON AS POSSIBLE: a glimpse behind the scene of the virtual services
"Each service is a team effort and the way in which everyone has worked together has been wonderful." (Audrey Balderstone, Worship Committee Coordinator)
 To say that we live in strange times is a 'given' but throughout 'Lockdown' the Sabbath services produced and broadcast by the AV Department have kept the members in touch and given some semblance of normality besides catering for their spiritual needs. However, producing those much-praised services requires hours of dedicated work by members of the Worship Committee (for the Traditional Service), the Parallel Worship Team, the student missionaries Carol and Lucas and the AV Team. Yet none of this would have been possible without the availability of modern technology and the skills and expertise of the members of the AV Team.
The sudden announcement of church closures by the SEC President was ahead of the government's national 'Lockdown'. This presented a particular challenge for the AV Team as Messenger Editor Pastor David Neal was due to preach the following Sabbath. He was willing to travel and record the sermon on the Friday so arrangements were hastily made to film in the BUC Loft - at the same time as the team were engaged in producing Youth Week of Prayer videos! This resulted in a very simple service which according to Ben Davison proved to be one of the most popular services broadcast during 'Lockdown'.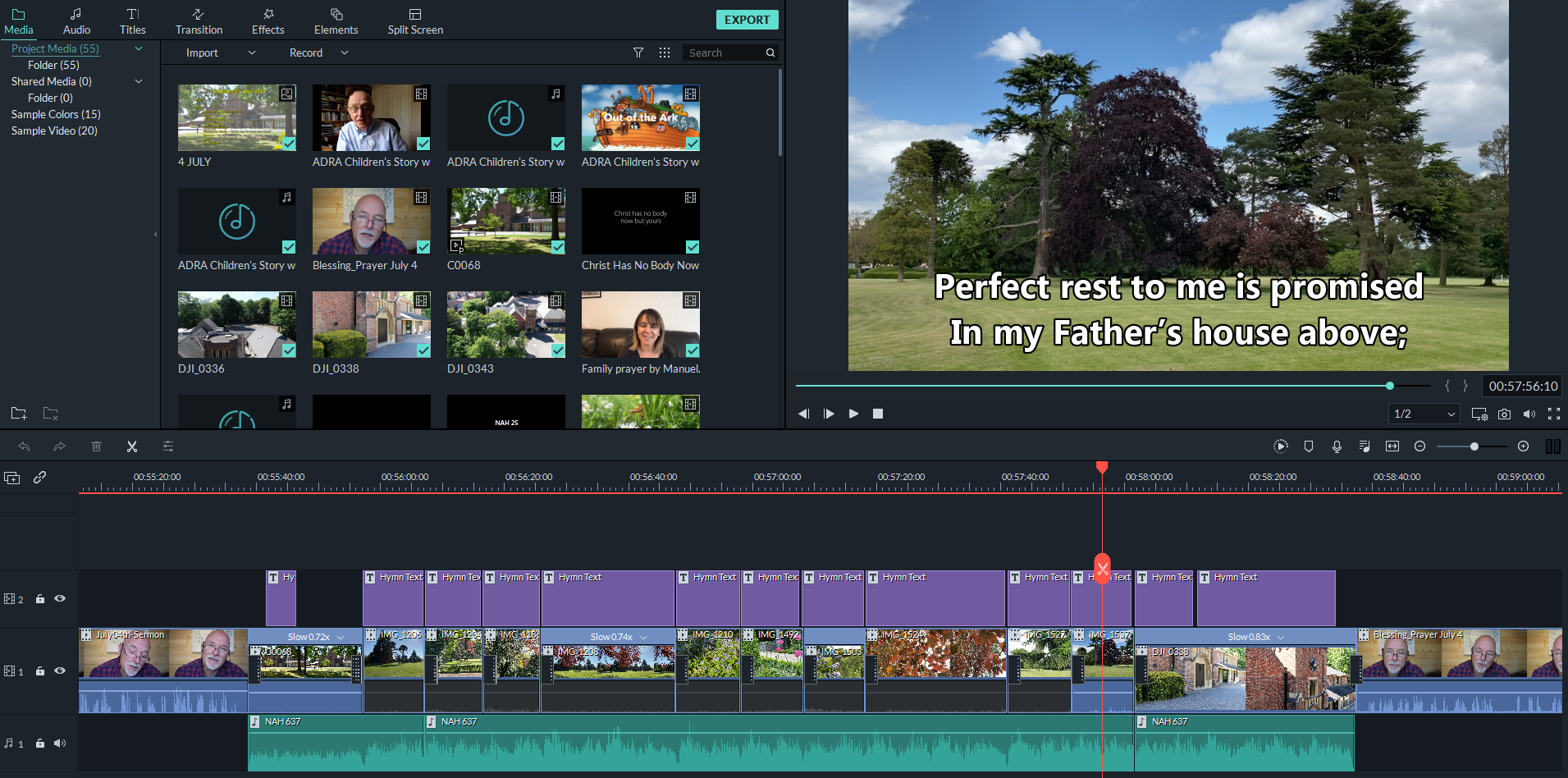 However, producing a virtual service has been a particular challenge for the AV Team members as they normally work with 'live' productions and therefore have no facilities for pre and post editing. Fortunately, team member Carl Swain and Lucas are both keen video producers and have their own equipment and software so the editorial roles fell to them with Carl producing the Traditional Service and Lucas the Parallel one. However, as AV Lead Ben Davison points out, the Team are enablers and not responsible for content and this is where the Worship Committee plays its part for the Traditional Service and the Parallel Team for theirs. 
The Worship Committee's coordinators, Roger Murphy and Audrey Balderstone drew up a list of suitable hymns from the back catalogue and having noted their provenance and length passed it on to the AV Team for broadcast planning. The Parallel service had no such back catalogue, so Lucas has sourced new music for their programmes. It was decided not to show the actual congregation singing as this would inevitably show members who have since died and so nature shots taken around the church and Stanborough Park were substituted.
Production of the nature shots has fallen to Carl who says, "I keep it personal to Stanborough Park to remind all those who are unable to go there and give them a sense of weekly familiarity. I figured, It would be good to remind everyone of the nature we have at 'The Park' and that, even though most people couldn't see for themselves, life in nature carried on as normal." He returns every few weeks to take more shots to keep pace with the changing seasons. In June Pastor Dejan's drone footage was incorporated into the scenes - which has been well-received.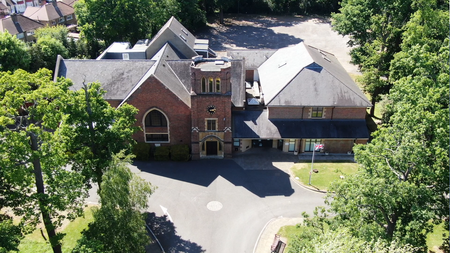 No two Traditional Services are alike as each week a different person takes the lead, planning the programme and lining up participants. The first person to plan a programme was Daniel Guenin who located some appropriate organ music on YouTube to cover the introductory titles ('Prelude in Classical style', composed by American organist Gordon Young https://youtu.be/QGg5IqoLMXg') which contributes to the feeling of a church service.
Beatrice Cooper is behind the Zoom Choir. Once she realised that 'Lockdown' was going to continue for some time she decided to exchange the church platform for an internet one. Having recorded the music, she sent it to the choir members who recorded themselves singing. Working with the results she isolated the voices from the videos and amalgamated them to make it sound as though they were singing together, arranged the video clips and then synchronised them with the audio to produce the finished result. She  is currently involved in the production stages of a second performance to be broadcast in August. New members welcome, contact Beatrice Cooper by email. 




Pastor Terry is responsible for the preaching roster and his contributions are usually recorded by Carol/Lucas at the church on Tuesdays or Wednesdays. Sometimes something unexpected crops up which involves rerecording a segment on Fridays. He says that he prefers 'live' rather than recorded sermons but seems to enjoy joining the live discussions in the chat room during broadcasts. Pastor Neal felt much the same, lacking the feedback of a live audience 'makes it feel more like a presentation' and Pastor Boyle, who found himself preaching to an empty church, found it 'disconcerting'. 'Auntie Alison' Burgess who has provided the children's slot twice has submitted an entertaining account of how hard she found it. (Children's Stories in Lockdown: 'Auntie Alison's' Strange Experience)

All content has to be with the AV team by Wednesday evening according to Ben who says that it takes best part of a day's work to turn this into each service. Sometimes something is missing or has changed at the last minute and involves a few frantic phone calls and sometimes rerecording. (In one case the benediction was missing - now a note is sent to speakers to remember to produce one!)
Once the programme has been completed - usually Friday evening - it is sent to the cloud storage to be streamed next morning from the home of the member on duty. With viewing habits changing and services attracting viewers from abroad the programmes are put out earlier on the recently opened YouTube channel which now has 859 subscribers. https://www.youtube.com/channel/UC4IitsaIxhKl0cqYOG8AxgA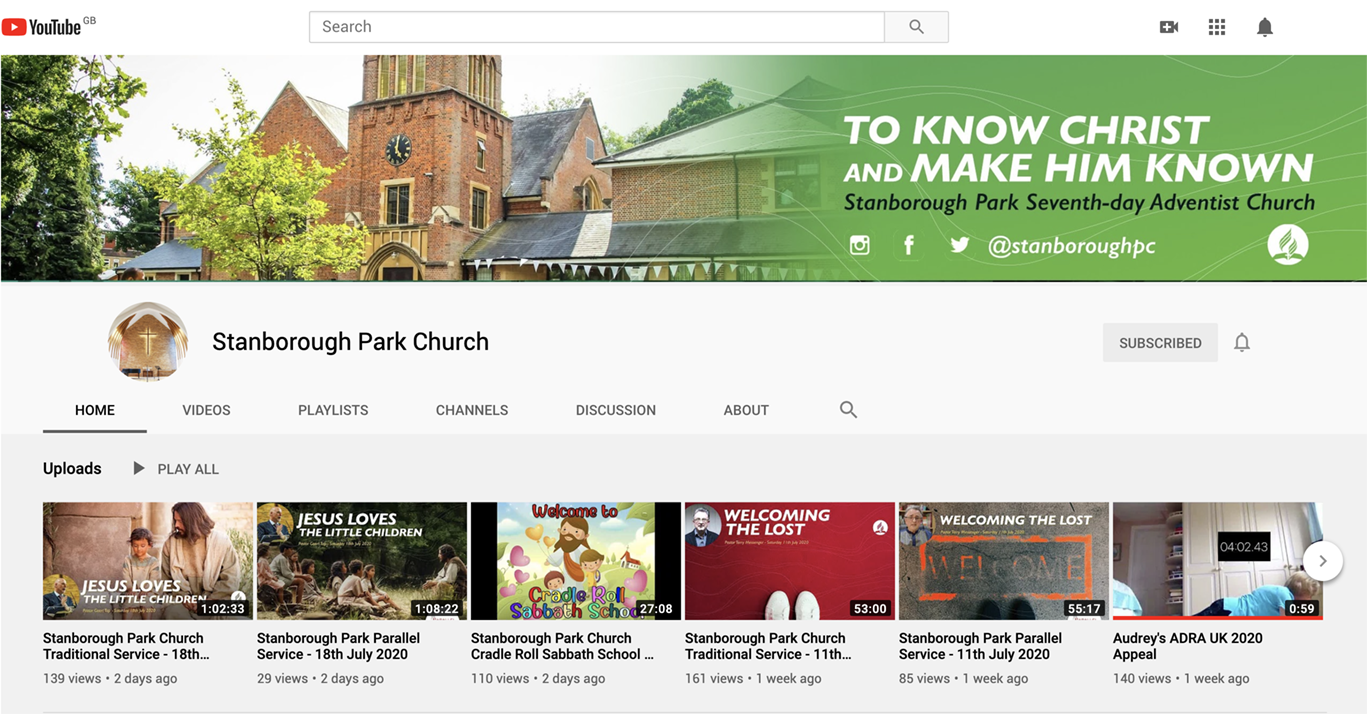 Jef Nascimento continues to provide the eBulletin from Portugal and also deals with the web site, Facebook etc. He receives the announcements on Wednesdays and chooses the devotionals from 'Our Daily Bread'. He reports that the YouTube channel has been particularly successful:
I have highlighted some numbers below from our YouTube Channel which is basically a church online opened 24/7, as it can be accessed at any time.
Since March 2020 we had:
- more 198 people subscribing on our YouTube Channel. (A total of 859 on July 20th).
- 2.6 thousand of hours watched (12% more)
- 21% more views, 22.3k views
- 205 thousand of impressions (23% recommended by YouTube; 29% through YouTube search.
Charlotte Fidelia's Cradle Roll videos has been fantastic. Some of them have over 1,000 views.


The virtual services have been a blessing, and much appreciated, produced by a Team whose members have continued to be in full-time employment throughout 'Lockdown'. But none of this would have been possible without the technological advances of recent years.  As Joan in Trinidad commented in the chat room, "we are making wonderful use of the technology for maintaining fellowship."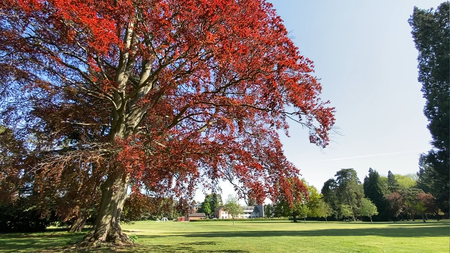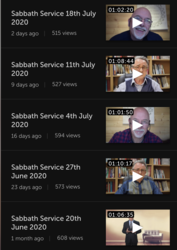 For a fuller account of the work that goes into producing these programmes see  'Combining team work and technology to produce the virtual services'. Click here.