Lockdown News #2 - Updated version
One Vision Young Adults Voluntary Work at the Stanborough HUB
A great opportunity to gain experience working with charity workers and community leaders during the COVID-19 pandemic by serving our local community. Every young adult will receive a certificate signed by Dean Russell MP, Member of Parliament, Peter Taylor - Mayor of Watford and Enoch Kanagaraj, Chairman One Vision Project. For further information how to gain experience call Annalisa Buraglio on 07425785763 or email ovp@stanboroughpark.org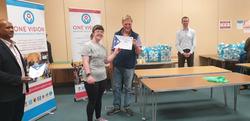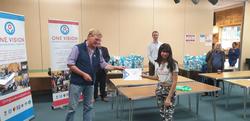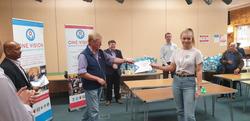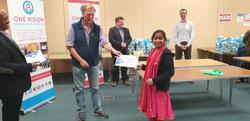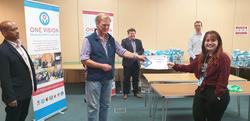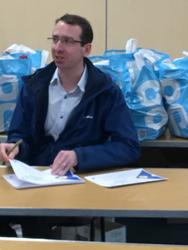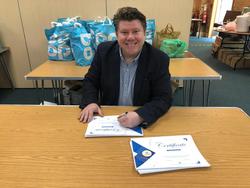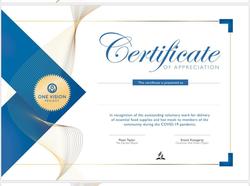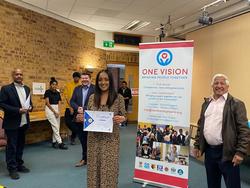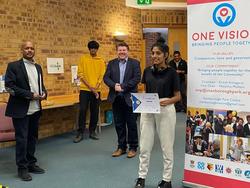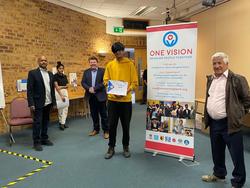 Panel Discussion with Dean Russell MP and One Vision
One Vision commemorates VE Day and Stanborough Park Church
One Vision commemorated the 75th Anniversary of VE Day with a flag raising ceremony outside the church. One of the group's members, Liz Burns, runs a Veterans'' Group of 300 local ex-servicemen and women, some suffering from severe post traumatic stress trauma. She is in daily touch with all of them and provides therapy groups for them. So it wasn't surprising that the anniversary was marked in a special way.
Members of One Vision along with Watford's MP and Elected Mayor and Chair of the Rotary Club and BUC President attended a short ceremony which was accompanied by a bugler. Each spoke briefly as did Liz Burns of the sacrifices made for the freedom that we experience now albeit coping with a different type of war with COVID-19.
Pastor Sweeney finished with prayer and explained that the church was broadly pacifist but would express gratitude for those who gave up their lives for our freedom and drew attention to the adjacent Peace Garden that was created to coincide with the centenary of the First World War.

 
One Vision opens a Watford COVID-Hub at Stanborough Park Church
On April 30th Watford's Mayor, MP, Council Chair, Chair of the Rotary Club and many others represented in the One Vision Project gathered together for the official opening of the Watford Hub at Stanborough Park Church.
During the ceremony it was reference was made more than once that One Vision with its local faith, charity and self helps groups working collaboratively is a pioneering venture and far advanced of anything else happening in the country. It recently won an annual High Sherriff of Hertfordshire's Award for its work. As the borough's MP said, the Watford is a strong community and the cohesiveness in the town is second to none. So the current epidemic has easily fitted into the group's aims and provided an already established network for providing aid.
Requests for help are coming all the time and with funding from the British Union Conference and the local Rotary Club and help from the ladies at the local gurdwara and staff at The Prince of Bengal hot meals are delivered daily to the vulnerable as well as food parcels and any help required given.
During the Opening Ceremony, many people spoke of the help being given to locals which include physical, mental and spiritual. The representative of the Sikh community spoke how in his religion God is in us and how important compassion is.  All spoke of how the current need is bringing out the best in people. Loneliness and mental health also feature and ways of dealing with this are being investigated. It was pointed out that the current crisis has brought out the best in people and many lonely people have found neighbours knocking on their doors asking if they need help for the first time.
The town's Elected Mayor is especially supportive of the group as he feels that so much more can be achieved by working together. Something supported by the town's MP who is out each weekend delivering meals with One Vision.
Also speaking were members of the BUC staff who outlined the denomination's response and sees Stanborough Park Church as the first of its collaborative efforts to provided aid during the current crisis. The BUC has released a 3-point Convalescence Project which will be rolled out in three stages culminating with the offer of a period of convalescence away from home for those who have been severely affected by COVID-19. Details of this can be found here.


One Vision Project opens food hub for Covid-19 victims: Press Release from Chief of Staff for Dean Russell, MP for Watford
Mayor Peter Taylor and Watford MP Dean Russell joined Executive members of One Vision Project – Cllr Liz Burns, Cllr Rabi Martins, Harjit Singh and One Vision Chair Enoch Kanagaraj together with volunteers to mark the formal opening of a new Food Hub in North Watford
Enoch said, 'This was a significant milestone for One Vision When we responded to a few requests for cooked food at the start of the Lockdown period with support of the Prince of Bengal Restaurant I had no idea that there was such a huge demand for such a service out there In week one we distributed jut 40 meals Now we deliver around 1000 a week and the demand just keeps growing That is why we decided to establish a Central distribution Centre. I am very grateful to Peter and Dean for supporting the little bit we are trying to do for the victims of Covid-19.'
 Dean Russell said that 'I have been so impressed by the One Vision team, they have worked tirelessly throughout this breakout to support the vulnerable and I am extremely grateful to them, I have really enjoyed the time that I have spent with them.'
One Vision was established by Enoch, who is also a Pastor at the Seventh Day Adventist Church to promote joint working amongst community groups operating in Watford
The One Vision Covid Project was established under the aegis of the Seventh Day Adventist Church Charity specifically to provide food and provisions to vulnerable individuals and families in need 
In recent weeks it has extended its reach families with school children on low incomes and find it difficult to access government support programs.
Feedback from a local Head Teacher
I just want to say a massive thank you for the regular deliveries of food for the families at Warren Dell and Oxhey Wood. I deliver much of this myself and the smiles on the adults faces is something that will stay with me for a long time. From day 1 my cook has provided lunches for our FSM children which again school staff deliver but the additional food is vital for them, along with the families whose financial situation has changed dramatically due to lack of work (which they understand is necessary to reduce the transmission of the virus)  due to COVID-19 that aren't eligible for FSM but delivering the food to them is vital.
Some of our families are shielding and have no local support and so again the bags of food are vital for them. The need increases week on week as our families that are unable to work at the moment have depleted funds. Some families can only get out to smaller shops where food is more expensive leaving them also short of food.

By June Coombs