Lockdown News #1
One Vision presses ahead with helping the vulnerable members of society during Lockdown


During Lockdown the One Vision Project, under the leadership of Enoch Kanagaraj, has been actively distributing food parcels and hot meals to the more vulnerable members of Watford and surrounding area.
One Vision, which recently received the High Sherriff's Award,  is an Adventist-led group which links many local charities and action groups to enable them to share resources and skills and provide training, empower communities, raise funds and create a better everyday life in our town.

The project provides a forum for members to network, exchange ideas, share information and skills, support each other and provide a voice for the disadvantaged and provides a number of training courses for its members to support volunteers and their work in the community.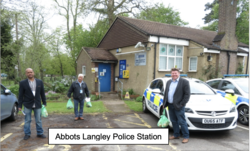 Most Sabbaths have seen Enoch out distributing food parcels accompanied by Dean Russell, Watford's Member of Parliament, and Rabi Martins who was the previous Chair of Watford Borough Council and often Watford's Elected Mayor, Peter Taylor. During the week meals prepared by the Watford Sikh community have also been distributed.


Pastor Boyle follows in the footsteps of John Bunyan by delivering his Easter message in public
With churches being closed over Easter denying Christians the opportunity to celebrate the such a fundamental belief the Mayor of Watford invited One Vision to provide a unique service in Garston Drive where retired former church Pastor Patrick Boyle addressed the residents through a PA system firstly reminding everyone of the work being undertaken by NHS staff before delivering the Easter message. Video footage, broadcast on YouTube and by SEC News, recorded the message which ended with a round of applause and shows residents watching from a distance. 
Former members John and Ruth Arthur proud to announce their daughter Christine's prestigious appointment
John and Ruth were Stanborough Park members for many years during the time of John's various appointments at the BUC and ADRA. Their children Christine and Andrew attended the children's Sabbath Schools and Stanborough School. They retired to Scotland where recently they sent a newsletter to their various friends which included some exciting news about Christine.
She joins a team of 58: 15 of whom are women.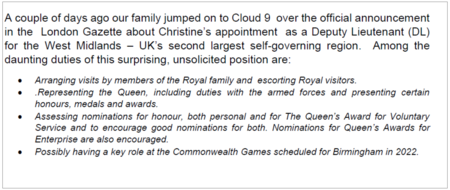 Christine's Profile on the Deputy Lieutenant's website is as follows:
Chris is a PR and communications expert with 30 years' experience.  She was appointed Managing Director at McCann PR in 2007, taking full control of the PR, social and influencer operation. Since then, she has spearheaded its success and established a track record for targeted, influential and award-winning campaigns, winning CIPR Agency of the Year four times. 
She has also worked with Advantage West Midlands, the Government Office for the West Midlands and Marketing Birmingham, and involved with landmark projects including The Bullring, NEC, ICC, Birmingham International Airport and Resorts World. 
Chris is a member of the Chartered Institute of Public Relations (CIPR) and an active supporter of Birmingham. She is an external trustee at the University of Birmingham Guild of Students where she received the Alumnus of the Year Award. She has established a popular work experience programme to share expertise with young people, which resulted in 20 student placements and two full-time positions last year.
This isn't the first honour she has received. Back in 2012 she was selected as Birmingham University's Alumna of the Year. After receiving her award she presented the keynote address to 1,000 graduates, friends and professorial staff assembled for a graduation ceremony at the university emphasing the need for trust and transparency in all walks of life. She said she was both humbled and honoured to accept the award but remained totally mystified as to why she had been chosen - especially when she learnt that there are no less than 170,000 former students of Birmingham University currently living all over the world
Christine, a mother of two grown-up sons, is married to auctioneer, Nick Davies, who frequently appears on the BBC "Flog It" programme. When questioned about her pre-university education, Christine expressed thanks to teachers at Stanborough School and Newbold College for establishing a good launch pad for her career.
A SAD GOODBYE
Sadly, Frank Blewitt and Joy McCrow, who regularly attended church before being admitted to local care homes, succumbed to Covid-19. Joy is the mother of Heidi Tunwell and Frank, Ruth's husband, was for many years a stalwart of the church's Communications Department. Also, former member Victor Fletcher, brother of Charles, who retired to the Caribbean, recently passed away as did Pastor Viv Llewellyn who fifty years ago as Assistant Minister working extensively with the church's youth. Our thoughts, sympathy and prayers go to all members of their families.