God Rescued Me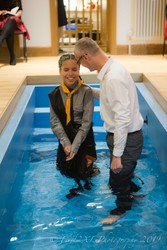 I grew up in Stanborough Park Church and was baptised there on May 11, 2019. I got baptized because I love my Heavenly Father and He has showed me that He wanted me to follow Him since I was a little girl.

As I grew up, I relied on my Heavenly Father more and more. At a young age, when things were not going as expected, God seemed to help me in astonishing ways. I began to understand God better in my early Junior years. I slowly became interested in baptism and I asked my parents a lot of questions. I started to know God better as I prayed, especially when I saw God's answers. Every day He had a little gift for me or a stern but loving lesson.

When I was around nine years old, my family went to Martinique to meet the extended family and my grandparents. Since we were preparing for my grandmother's birthday, we drove to the North where my grandparents live. On the way, my parents remembered there was a beautiful river nearby, called Grande Riviere (meaning Big River), so we made our way there. Strangely, I had this uncomfortable feeling as if I was in danger. I clearly remember not wanting to wear my swimming suit, which is really bizarre as I love swimming.

We crossed the river to get to the 'kids' area' where it was a perfect natural swimming pool. Passing by, we saw two young women in the water further down. We carried on walking to that lovely spot to enjoy it as a family. I remember my dad picking up stones from the riverbed until he found a special one called granite. Then he gave it to my mum and when she bent over to pick the stone up, she was stunned to see a school of fish dashing down the river. Less than 10 seconds later, to my mum's surprise, she heard a clear voice saying: "Stand up and look."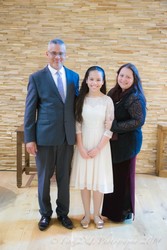 Mum obeyed instantly, and to her utter shock, she saw a massive brown wave making its way towards us at rapid speed. I can hardly recall what happened; all I can remember is my mum screaming to my dad, "Get out of the water!" My mum grabbed the bags as she rushed to try to reach the bank. But I was next to her running barefoot on those sharp stones. I could not run so she ended up carrying me. I remember seeing my dad playing with my little brother in the middle of the river. But as soon as he heard my mum screaming, he managed to reach us and make his way through the water just in time before the wave swept behind him. We were all safe on the edge of the bank and on a large rock, but I noticed the water was rising fast. Frightened, we prayed – and the water stopped rising. Dad ventured down off the rock while grabbing some vines. Next, he made his way to a part of the footpath and then he returned for us to bring us to the safe place.

As we were waiting a long time, we were hungry, tired and annoyed with the mosquitoes that appeared out of nowhere. Then we found the two women that we had seen swimming earlier. Now, the two women were up on the vines and jungle plants, shouting at us to climb up with them before the water rose and carried us all away, but my dad reassured them that nothing would happen to them. They immediately came down.

The two women started to tell us what had happened to them. One of the ladies was a believer and was trying to convince her friend of the existence of God. But that lady didn't believe in God. She said that God never listened to her prayers. During their argument, the wave fell on them without warning. They tried to hold hands, but the water forced them apart and they were carried away, deep under the water. Afterwards, the lady who believed in God found her way out. Unfortunately, her unbeliever-friend was swept further away. That same friend (the unbeliever) recounted how she felt in the deep waters. She finally prayed to God and said: "If you exist, Jesus, please save me."

After sharing all our experiences, we were still waiting on that tiny footpath. Suddenly I saw a man in the car park, so I began to shout, waving my red towel, and soon all of us were waving our towels too. The man turned and shouted in French over the crashing waves, "I will call the firefighters!" Then he jumped into his car. We stayed there for what seemed like an eternity (which was really just a couple of hours) and I started to wonder if there were even firefighters in this region! When they finally arrived with two fire engines, even some of the locals came to see.

As we waited to be rescued, I marvelled to hear the river and the huge stones crashing their way downstream with an amazing speed. Later when all the equipment was ready, one of the villagers made his way through the water up to the remaining path that we were on and we observed how brave this man was to risk his own life to come and rescue us. He attached ropes and led us one by one out into the safe land. Children went first, so that meant my brother and I were the first to feel the mighty rush of the river. At the end, some tourists watching our rescue gave us some beautiful towels and blankets to cover us and warm us up. Eventually everyone was brought to safety.

At my grandparents' house later, after discussing how the day's events escalated, I personally thanked God for watching over us. It was almost unbelievable but true. My trust in God has grown stronger and deeper every day since then. Knowing about God's power was not sufficient but experiencing it was amazing, as was having the assurance of his constant care toward us and especially me, even though we are unworthy of it.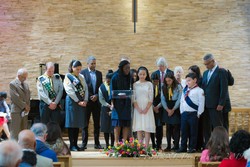 The verse that I chose for my baptism was based on this experience. Psalms 18:16-17 says: "He reached down from on high and took hold of me; He drew me out of deep waters. He rescued me from my powerful enemy, from my foes, who were too strong for me. They confronted me in the day of my disaster, but the Lord was my support. He also brought me out into a spacious place; He rescued me because He delighted in me."

This verse has become one of my favourites, because God did reach down into deep waters and rescue me. I hope that my favourite Bible verse will become an inspiration to your life too.

By Sara Renard