Stanborough Park Musicians hold ninth children's concert for ADRA
By Josh Anderson-Grey


Stanborough Park Church held a charity concert on Saturday, March 9. The concert featured young musicians from Stanborough Park's College of Music playing a series of artistic compositions such as the theme from Jupiter by Gustav Holst, Allegretto by Carl Philipp Emanuel Bach, Sad at Heart by Robert Fuchs and Ave Verum Corpose by Wolfgang Amedeus Mozart, among other pieces.

During the recital a collection was taken with the proceeds set to support the Adventist Development and Relief Agency (ADRA). The event was organised by Jieun Ahn, the director of the Stanborough Park College of Music which was officially established in 2011. This year is the ninth children's concert aiding ADRA since the college began.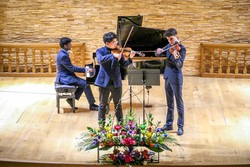 Jieun is a professional violinist who has been the Head of Music at Stanborough Park Secondary School since 2005 and runs the church's college of music with her sisters Jiae and Jihee. While speaking about this year's ADRA fundraiser, Jieun spoke highly of her students: "We are very proud of all participants in every concert since it started in 2011. Every individual soloist and chamber musician did excellent work in the concert. It was so amazing to work with them and seeing them playing together. I am sure that their light will be spread in the world for other children."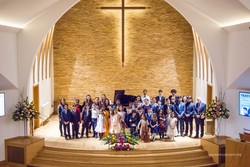 While Stanborough's musical fundraisers for ADRA are only performed once a year, the church's College of Music has a busy schedule over the next few months. Students are set to perform at a series of teatime concerts which will be held on April 28, May 26 and June 23. Moreover, the students will be showcasing their talent again at a recital on July 7, and at another concert on July 13 with the theme "My Favourite Hymn."

Next year's ADRA concert is already being planned and is set to take place on March 14, 2020.