Discovering hitherto unknown artistic talents
Church congregations in North London and Hertfordshire are enjoying floral arrangements now being created by some of their members who recently discovered that they had unknown talents for floral artistry.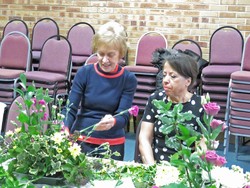 During February and March a series of four workshops for complete beginners who wanted to develop the art of flower arranging were conducted at The Stanborough Centre by Audrey Balderstone. Audrey has acquired a well-deserved reputation for her own flower arranging skills having been awarded both Gold and Silver Gilt medals for her displays at the prestigious Chelsea Flower Show. Over the years she has organised flower festivals, given talks on floral artistry and delivered sermons using flowers to illustrate her points.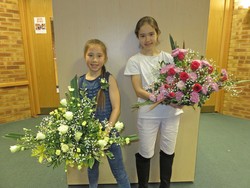 Starting with just five flowers in the first session, thanks to Audrey's excellent teaching, a group of more than a dozen ladies from across the age range (including two school girls) changed from complete novices to competent flower arrangers in just four weeks.

For the final session the participants provided their own flowers following guidance from Audrey who provided the floral foam and dishes along with some greenery. The quality of their work in this fourth session belied the fact that they had no previous knowledge of arranging flower and bore witness to Audrey's skill as an instructor - an opinion which found unanimous agreement amongst the group who were all keen to return for a more advanced course.

| | |
| --- | --- |
| | |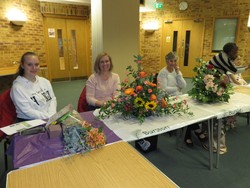 Pat Swan, who attended the workshop, clearly spoke for all attendees when she said, "We've all learnt a lot. Audrey's a good teacher and we now understand a lot more about what goes into arrangements for church."
Audrey clearly enjoyed running the workshop which was the result of popular demand having finally given in to pressure to run a beginner's course. She stated afterwards that she was willing to run another one for beginners if there is sufficient demand.
Anyone who would like to join a later workshop can register an interest by contacting:    
Jefferson Araujo Nascimento
.