Baptism of Jefferson Samuel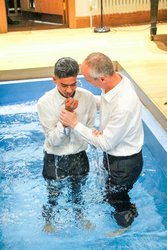 On November 24, teenager Jefferson Samuel was welcomed into the Seventh-day Adventist church family when he was baptised at Stanborough Park Church. He was baptised by Pastor Jacques Venter, who had given him Bible studies. "I know he will be an example not only to his brothers but to everyone he meets," said Pastor Venter. "He is a bright young man and a wonderful person to engage with."

Jefferson's younger brother read Proverbs 3:5-6, and the visiting Chelmsford youth choir also supported Jefferson through their rendition of the beautiful song, "How Deep the Father's Love For Us."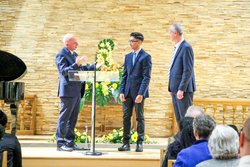 When Pastor Gert Tap presented Jefferson to the church afterwards, he challenged him, "It's not done! Now you continue to walk with Jesus." Pastor Tap shared a passage from 1 Timothy 4, which the Stanborough church family wants Jefferson to take into the rest of his life and spiritual journey. "Don't let anyone think less of you because you are young. Be an example to all believers in what you say, in the way you live, in your love, your faith, and your purity… Focus on reading the Scriptures to the church, encouraging the believers, and teaching them…Give your complete attention to these matters. Throw yourself into your tasks so that everyone will see your progress. Keep a close watch on how you live and on your teaching. Stay true to what is right for the sake of your own salvation and the salvation of those who hear you."

Pastor Tap commented that Paul teaches Timothy that following Jesus can only be done totally and encouraged Jefferson to follow Jesus totally as well. "Then other people will see the joy you have in following Him and want what you have too!" said Pastor Tap. "And you don't have to do it in your own strength. Jesus will constantly be with you and the Holy Spirit will give you power to be a tool in God's hands."

Stanborough Park welcomes Jefferson into their church family and prays that his faith and life will be an example for those around him of what it looks like to walk with Jesus.