Amazing Discoveries with Mark Finley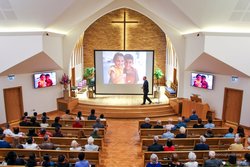 The international evangelist Pastor Mark Finley hosted a series of conversations from the 17th to the 25th of August, at Stanborough Park Church. The focus of the series, entitled Amazing Discoveries in the Middle East, was how archaeology validates the authenticity of the Bible.

Pastor Finley spoke to a full church, with an average of 160 people coming each night—many of them from other non-Adventist churches and from the community. The series also received a lot of interest online, with at least 100 people watching the first night through SPC's livestream. This was thanks to an extensive promotional campaign in which 34,000 flyers were distributed throughout Watford, as well as advertising online, in the newspaper, and on a bus panel.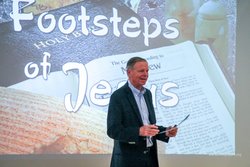 Pastor Finley, who has visited the Middle East on numerous occasions, unveiled the relationship between ancient civilisations, archaeological discoveries, and Bible prophecy.

The series of multi-media presentations included unlocking the mysteries of Egypt and the secrets of Babylon; journeying through Israel and discussing prophecies about Jerusalem; and discovering how the apostle Paul and Alexander the Great changed the course of history.

One of the attendees said, "I was amazed the first night, when the presentation focused on Egypt, to learn that scientists in the UK have been able to scan mummies and identify their cause of death as the same leading causes of death in the Western world today. The picture of Ramses II's arteries showing the build-up of fatty deposits was really eye-opening. The other thing that impressed me the most was how recent discoveries have been able to confirm the historical accuracy of the Bible narrative, when previously sceptics were trying to discredit the Bible based on prior lack of evidence."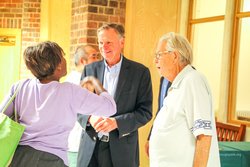 After the series, Stanborough Park Church began a follow-up Bible study group called "Amazing Discoveries in the Bible." On the first night, almost forty people attended, even though it was a Bank Holiday. Currently, approximately ten members of the study group are non-Adventists.

If you missed out on the fantastic presentations, you can watch them on Stanborough Park Church's YouTube channel or order a DVD by contacting spcavteam@gmail.com. You can also visit our Facebook page to see more photos.

Mark Finley will be back at Stanborough Park Church in October for a series about Revelation, beginning on October 26th and ending on November 24th.

By: Vanesa Pizzuto and Lynette Allcock