International Baptisms at Stanborough Park Church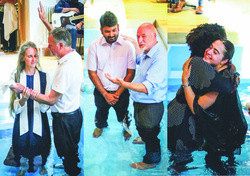 On August 25, Stanborough Park Church celebrated the baptisms of Nadene Moser, Rohan Kamble, and Nonoesjka van Gorcum.

Nonoesjka had travelled to England from the Netherlands to attend Pastor Mark Finley's series 'Amazing Discoveries in the Middle East,' which Stanborough hosted from the 17th to the 25th of August. She had also come over for his series on the Holy Spirit in January. Nonoeskja was brought up in a Christian home, but there was always something holding her back. However, a number of years ago, she began listening to Pastor Finley's sermons, and the Holy Spirit began working in her heart. She told Pastor Finley, "I realised that even though I felt unworthy, Christ was worthy. Even though I felt inadequate, Christ was adequate. Baptism is not about who I am, but about who Jesus is." She was baptised by Pastor Finley and will be welcomed into fellowship by her home church in the Netherlands.

Besides supporting the visiting Nonoesjka, the church rejoiced as two of its own committed their lives to Jesus.

Pastor Gert Tap spoke of Rohan's enthusiasm for Bible study. "When I study with Rohan, I have to dig deep! When he responds, it's not just, 'That's fine,' but, 'Tell me more! That's beautiful, that's awesome!'"

Nadene Moser, who grew up in Stanborough Park, had been studying with pastoral intern Lolly Fontaine. Lolly described Nadene as authentic to the core. "That means she's in this pool because she wants to be, because she genuinely believes in Christ." Nadene explained why she had decided to follow Jesus. "I love that he has a plan for me, and I know that he loves me and wants what is best for me. So obviously I will follow someone who wants all the best for me! For me, being baptised means showing people who I serve and that I want God to be a big part of my life."

The three candidates were welcomed into the worldwide church family and encouraged to keep writing their story with God. Stanborough Park Church wishes Nadene, Rohan, and Nonoesjka continuing joy in their journey with Jesus.

Visit our Facebook page to see more photos.