Community Day to help others in Garston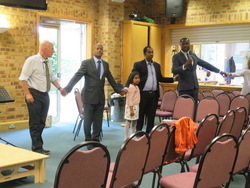 The question "Who is my neighbour?" reminds us that we are all part of a community - a church community and a local one. To better connect the church community with its local one Stanborough Park Church is currently attempting to increase its involvement in its local community by holding a series of Community Days in which local official and charity organisations are invited to present the nature of their work in the local community and seek to attract volunteers to help them in their task.

These events are the brainchild of church member Enoch Kanageraj, an employee of The Coop Food Retail in Watford who is used to operating the company's policy of becoming involved with the local community in a positive way, raising cash for local causes in the process.

Feeling that the church members would similarly benefit from becoming more involved in the church's local community he set up the 'Community Chaplaincy Service' two years ago. His aim was:

to build a connection between the church and local community showing what help was available and how the church members could help them,

* to help each other,

* to establish local needs and how to help them,

* to establish a team of volunteers to help locals with their needs and help to fight loneliness.

Using his existing professional contacts Enoch has been inviting community groups to visit the church during the morning and afternoon and explain how they help the community and how the church community can help them. The second of three Community Days held at the church took place on Sabbath 9th June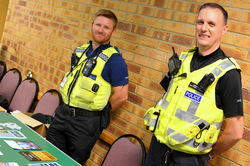 Members of the local police force attended presenting crime prevention advice and asking local people to contact them with any concerns and also appealing for people to apply to be volunteers with the service. One church member has been doing this already for almost 12 years. Sgt. Matt Langley also explained about police initiatives that were being trialled locally, especially with youth.

Also present were representatives from organisations such as Watford Women's Centre which Smita Gohill explained no longer deals exclusively with women providing courses for men as well and expanding into helping newcomers with poor English skills to integrate with the local community and culture. Another speaker spoke of the need for stability in the lives of 'looked after children' and appealed for people to consider becoming foster carers.

Mencap was also represented with the types of help available now to families with a learning disability and asking for more volunteers including teens to help with holiday play schemes. Sian Henry explained her 'Red Box Project' to help disadvantaged girls and women have access to sanitary products.

Sarah Flynn, the Women's Officer with the local Labour Party gave a lively and inspirational talk about promoting kindness and ways to help offset loneliness within the community, giving lots of practical examples of how we could do little things for others that could have a massive effect on their lives.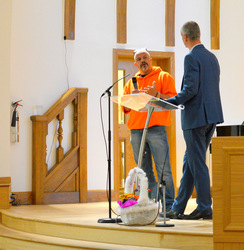 By far the greatest amount of time was given to Stephen Phoenix Russell who founded 'Homeless Warriors' to help those sleeping rough on the streets of Watford following becoming homeless himself. He explained his work at length and how he needed donations of snacks, water, clothing etc to help with his mission. The church already operates an outreach service to the homeless of central London with a weekly Soup Run which has been operating for nearly 30 years and provides food, clothing and household articles for needy local families introduced by social workers.

Enoch has also worked closely with Stanborough Secondary School becoming heavily involved in its most recent Community Services Day on Friday 20th April. During this day the students took the opportunity to serve in their local community. They undertook work such as painting fences, packing bags at the local branch of ASDA, writing 5,000 cards to elderly people, visiting Watford General Hospital and collecting money for Mencap outside the Leavesden Co-op store where Enoch works. Their aim was to show how small acts of kindness can make a difference in people's lives. A video was made of this day and shown during Sabbath School. The school orchestra also performed during the service.

At the end of the day event committee member Amanda Powell commented, "So good to see so many people trying to help others and who were genuinely concerned, caring and giving their time and energy to do something AND trying to make links with each other and no doubt other agencies so that they can reach even more people and deliver support more effectively and/or point the people they are helping to other agencies if they cannot help.

Organiser Enoch Kanageraj, who plans to hold another Community Day on October 7th hopes to begin a project shortly at the church where the local needs are sought and volunteers found to help meet them, such as garden work for those now physically unable to undertake such tasks themselves. Pleased with how the event went he summed up the day in the following words, " I am very happy the way it went, especially the Secondary school involvement too. Great feedback from the members and the community leads; this is the right direction the church wants to move forward."