Have a taste of Italy at Stanborough - dairy free!
By: Annie Laila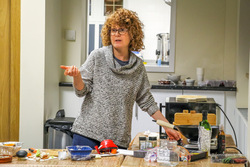 If you have ever made a resolution to learn something new, or to eat healthily, then Annalisa Molteni is the perfect person to help you accomplish those goals. Annalisa, who is a member of our church, is running both Italian classes and Vegan Cooking classes at the Stanborough Centre.



Italian classes

Annalisa is Italian and has a degree in Languages. She also worked in a school of Italian language for foreigners who needed to learn the language to work in Italy. After that, she ran a similar school in her parents' town with other volunteers. Now it is Stanborough's turn to have Annalisa teaching Italian. The classes started on 7th of February and all are welcome: adults, children, beginners or even people with some Italian skills. This is also a good option for Italian native students who don't practice the language enough, but want to have the Italian GCSE, for example.

Vegan classes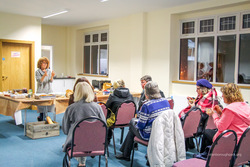 The idea for the cooking classes came from Annalisa's love of fresh food cooked from scratch. Her struggles with food intolerance increased her expertise in vegan recipes too. Annalisa explained, "This led me to find my own way of cooking, to experiment with new ingredients, and to cook tasty but not expensive meals. I would like to let people understand what it means to live with dietary restrictions and how to cope with it. I had to face this myself and therefore I want to help others who are going through the same experience or simply need some new tips."

The classes are not only for those who want to learn new vegan recipes but also for those who want to share what they know as well. "I hope to learn something new myself," said Annalisa.

Why should you come?

Annalisa's purpose with the classes goes beyond teaching people a new language or some recipes. "I want to help people in different areas," she said. "I want them to enjoy a holiday in the Italian Alps, cook a tasty vegan meal and spend time with new people. I would like to be someone who people think about when they need help."

Come to learn and come to have fun! For more information contact Annalisa at annalisa.molteni.uk@gmail.com

Write it in your diary:

Italian classes: every Wednesday from 6.30pm to 7.30pm and from 7.30pm to 8.30pm in the Maple Room. £3 per lesson.

Cooking classes: Twice a month, at 7.00pm in the Williams Hall. It is structured as a cooking demonstration with sample tasting. It is free to attend but there is a donation's box.