Truth in a Drawer
By: Alex Browne

I was sitting at my desk, working my way through a rather large to-do list, when I heard the voice of my colleague. "Right, it's positive thinking time, guys. Let's hear a couple of gems from the little book!"

I rolled my eyes internally. This sounded weird, to say the least.

"May the God of hope fill you with all joy and peace as you trust in Him, so that you may overflow with hope by the power of the Holy Spirit."

My ears pricked up.

"Come unto Me all ye who are heavy-laden, and I will give you rest."

I looked up this time.

"That's a nice thought!" Another colleague who had been listening chimed in.


Glancing over at my colleague, I saw that he was reading out of a pocket-sized book. It was "A Sound Mind: Thinking Your Way to Vibrant Health" by Sharon Platt-McDonald.

Intriguing. How had a book produced by the SEC found its way here?

"I know that book!" I said excitedly. "Do you know where you got it from?"

"I don't know, it's been on my desk for as long as I can remember. We've got a whole set in the cupboard, I think."

I smiled, and was just about to ask another question when he shut the book with a snap. "Well, that's positive thinking time over for this week! Stay tuned for next week's nugget!"

Often, we can feel discouraged by our witnessing efforts. Perhaps we mentioned something about Jesus or church to a friend, but they didn't seem bothered. Perhaps we told someone we were praying for them, and they dismissed our prayer. Perhaps we had a meaningful conversation with a stranger, but didn't manage to pluck up the courage to get their number to follow up.

But if my unexpected experience reminds me of anything, it is this:  Little acts of faithfulness matter in the vast scale of eternity.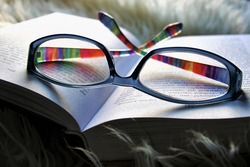 The conversation with my colleague, though brief, left me excited. I had been praying for opportunities to speak about Jesus, and now the prospect of meaningful conversations had been placed right before me! And it was someone else's small act of faithfulness that had enabled such a conversation to happen.

Jesus tells a parable about a farmer who sows seeds. The seeds fall on different soils, and only some produce a crop. But the sower keeps sowing, regardless.

How did that literature get into my office that day? I don't know. But I do know someone had sowed seeds, even though they might not have seen the result of their efforts.

Little acts of faithfulness matter, because although we think such events as small and insignificant, God sees the full picture. He sees past what we perceive as small, and uses the little that we've done to fulfil His purpose on the earth—to draw men and women to Himself.

Your little acts of faithfulness matter, right into eternity.