Empowered by the Holy Spirit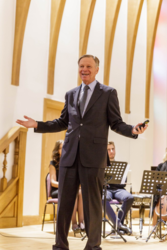 "Would you like to experience unprecedented intimacy with God?"

Mark Finley posed this question to the congregation on the first night of his series, "Empowered by the Holy Spirit," which ran from January 10-14. As he explained, "The key to a fulfilled Christian life is grasping and receiving who the Holy Spirit is."

Pastor Finley spoke to a packed church, with eager listeners coming from other congregations in the area and with one attendee even coming from as far away as Holland.

On Wednesday, Pastor Finley discussed the fundamentals about the Holy Spirit, explaining how He is a Personality and not a mere force, and His role as our personal helper.

On Friday, he shared the lessons for the church in the parable of the ten virgins. The difference between the wise and foolish virgins is not in their theology, but in their experience. Each person needs to really know God for themselves.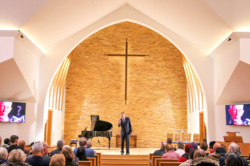 On Sabbath, he preached about the promised revival and the extra power from the Holy Spirit to take the Gospel to the whole world. Commenting on God's promise to pour out His Spirit on all people in the end times (see Acts 2:17-18), he said, "God is no respecter of gender, age, or social status. God pours out His Spirit upon everyone—men and women, young and old." He stressed our need to ask for the Holy Spirit personally, as "the reason we ask is not because God is unprepared to give, but because we are unprepared to receive."

The longing in God's heart for a deep, intimate relationship with each of us, as well as our great need of that connection, was the clear centre in each of Pastor Finley's messages.

"Friday night's presentation about the ten virgins definitely impacted me the most," said one attendee. "It's one of those stories I've heard so many times before, but I learnt a lot of new things that night. Our relationship with God can't just be a one-time experience; we need to go 'buy' oil—spend time with God—to keep our lamps burning. We can't borrow that oil from anyone else, but need to go and invest in it ourselves with our time."

Another attendee said, "A group of us young people used to come together to pray for the Holy Spirit. Thanks to this weekend, I'm inspired to start that habit again!"

At the end of the series, there was one request for baptism and eleven requests for Bible studies. Pastor Finley left his listeners with a renewed desired to experience God more deeply, and to pray for the fullness and power of the Holy Spirit in their personal lives, church, and mission.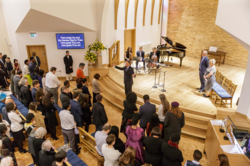 You can watch the messages on our Youtube channel. You can see more photos on our Facebook page.