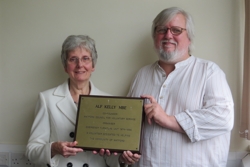 A plaque commemorating the efforts of the late Alf Kelly MBE, a Stanborough Park Church member, in establishing the Watford Council for Voluntary Service and his voluntary work for the people of the town - which resulted in his award from the Queen - was presented to his daughter, Pat Walton, last week.
Alf's concern for the local community started with joining the St. John Ambulance in the 1930's as a young man. After the war he became involved with Stanborough Park Church's hospital visiting group which led to him being asked to join a newly-formed group looking after the needs of the physically disabled in Watford which was eventually to become incorporated into Hertfordshire Association for the Disabled (now Hertfordshire Action on Disability) with Alf being a member of its Management Committee.
He established an annual Toy Service at his Garston church in the early 1960's to provide toys for needy local children at Christmas after learning of a similar scheme operating at the Ealing Seventh-day Adventist Church. He knew of the local hardship cases and would deliver the toys himself. By this time he was also involved in a group regularly visiting Beechfield Old People's Home.
He set up the Emergency Furniture Unit in 1971 and was subsequently invited to join the steering committee to set up the Watford Council for Voluntary Services and became a member of its Management Committee spending four years as its Chairman until standing down in 1984 when he became its Vice President. During his time on the committee he started a 'good neighbours' scheme which grew into the CARE scheme and established the first GROW hostel for the homeless in Rickmansworth Road.
Alf died just weeks after receiving his MBE from the Queen and his efforts to help the people of Watford and in setting up the CVS were recognised in a plaque on the organisation's walls. Now renamed The Watford and Three Rivers Trust and based in the Holywell Community the organisation has expanded into something that Alf would never have recognised. However, with the lack of a suitable wall to display the plaque, Bob Jones, its Chief Executive Officer wrote to Alf's daughter Pat Walton with an offer she couldn't refuse.
"As I am sure you know, among your father's great work in the local community, he made a big contribution to establishing the CVS. When the CVS relocated from The Parade, I discovered a small plaque acknowledging his contribution to CVS along with a small photo. Of course, we are ever mindful of the great footsteps we follow, but we have no appropriate place to display the plaque and photo. It naturally occurs to me that you might like them as a small and pleasant reminder of your father's great work? If so, please let me know and I will be very happy to pass them to you as part of your inheritance from a great man."
So on Thursday, 14th May, Pat went to the centre to collect the plaque, something which means a lot to her. Summing up the occasion she commented,
"I was surprised and delighted when I heard from Bob Jones that he had a plaque and a photograph of my father honouring him for his work with CVS (Watford Council of Voluntary Services). The plaque was a recognition of the founding work he did for it in 1974. As the cvs has changed its offices Bob asked me if I would like to have them. I enjoyed talking about some of my father's achievements so many years ago and reviving many pleasant memories of old friends."

Pat has followed in her father's footsteps and her own work for the local community has resulted in her receiving the Mayor's own 'Audentior Award'. Following her father's death in 1996 she has taken on many of his roles including the annual Toy Service held at Stanborough Park Church. She also ran the Emergency Furniture Unit which he started for some years until it was incorporated into Rickmansworth-based 'Nine Lives' and is one of its Trustees in addition to being a Trustee of STOP International which provided aid to orphanages in India. She oversees the much-appreciated welfare service run by the church providing food, clothing and everyday items for local families in need. She has also run a weekly 'Soup Run' for the homeless in London for more than a quarter of a century.
A tireless fund-raiser for good causes she is the person behind the popular eponymous 'Pat's Sales' regularly held at the church.